WRAP students design and paint 'Every Child Matters' mural in north Surrey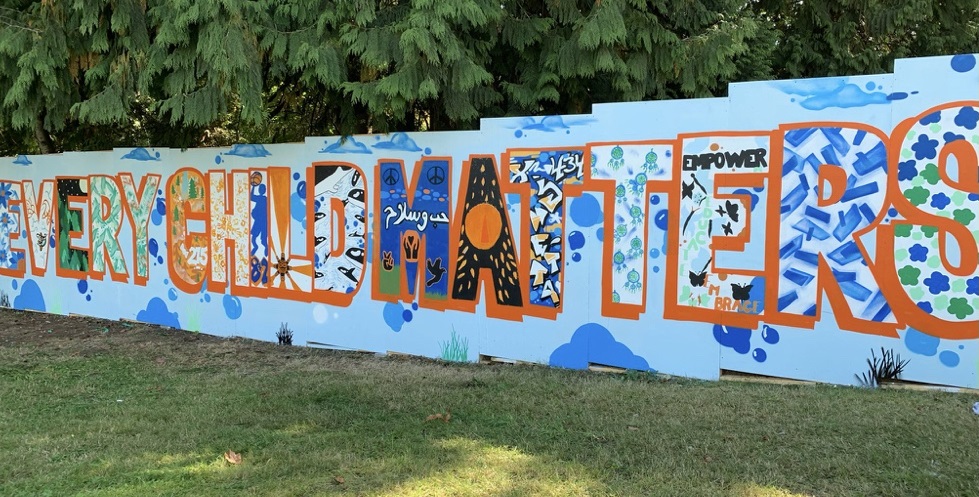 Students from the district's WRAP program have designed a new mural titled Every Child Matters, to honour victims of residential schools and celebrate the stoic resilience of Indigenous communities.
Following the success of last year's award-winning 150-foot inclusive mural titled Common-Unity, PCI Developments reached out to the district's Safe Schools department about painting a 61-metre wall at Fraser Highway and Whalley Boulevard. Ten youth, including two Surrey graduates who were involved in last year's mural, joined local artist Chris Perez to create the mural, once again under the spiritual leadership of Const. Troy Derrick of First Nations Policing.
"A lot of the themes in the mural are connected to the ongoing journey of understanding when it comes to the history of First Nations people in this country," said Surrey Schools social worker Jon Ross. "We're all in different stages of learning the realities of how it presents today in our schools and the community.
"Half of the students who contributed are First Nations and it was really great having the youth support and understand and learn from each other."
The mural highlights themes of compassion, community and love throughout the piece, with each letter of "Every Child Matters" showcasing a different design from the students.
"Honestly, this painting is for our community, it's just a message to all the kids and older people that they aren't alone," said Mustafa Jamshaid Abasi, a Grade 12 student with the Surrey Transition and Education Program. "We want the legacy to be peace and positivity. We want people to understand that the meaning of being a true Canadian is to be someone who is making a difference one step at a time."
"I hope that by doing this mural with all these different souls, we will show that the next generations can come together too and co-exist without violence and spread awareness for Every Child Matters," said Maria Shorson, a Grade 12 student at Queen Elizabeth Secondary.
The mural is an initiative of the Surrey Wraparound Program (WRAP). WRAP is a partnership between the Surrey School District, RCMP and the City of Surrey. The program's objective is to positively attach youth to school, their community and the home by building a trusting and positive relationship. Parents, caregivers and/or guardians are included in goal setting while assisting the program's objective in building a positive lifestyle and self-worth for youth.