Neighbourhood Learning Centres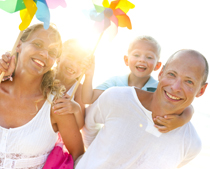 The objective of the Ministry of Education's Neighbourhood Learning Centre program is to create places where people of all ages can access education, community services, recreation and culture seven days a week, 12 months a year – places that promote the well-being of children, families and the entire community.
Neighbourhood Learning Centres look different in every community. They encompass a range of models including community schools, community hubs, schools with municipal recreation services and schools with community services such as health care, theatres, libraries, early learning facilities, seniors centres and cultural centres.
History
In B.C., schools have always served as neighbourhood activity centres. Since the 1970s, dozens of schools have been designated as community schools, and many continue to offer a range of community services. This approach is consistent with a growing body of research showing that, when families are engaged in students' learning and have the support of strong communities, student achievement improves.
In September 2008, the province announced its vision for Neighbourhood Learning Centres and set out a two-part initiative.
A capital component, providing extra funding to districts incorporating NLC approaches into plans for new schools or major renovations.
All other schools are expected to use their existing space to accommodate a wider range of services for students, families and the community to maximize the public benefits of school facilities.
Neighbourhood Learning Centres in Surrey
Space for new Neighbourhood Learning Centres has been created at Goldstone Park, Katzie and Sunnyside elementary schools, and at Fraser Heights and Panorama Ridge secondary schools.