Surrey students and Wraparound program win award from the city for inclusive mural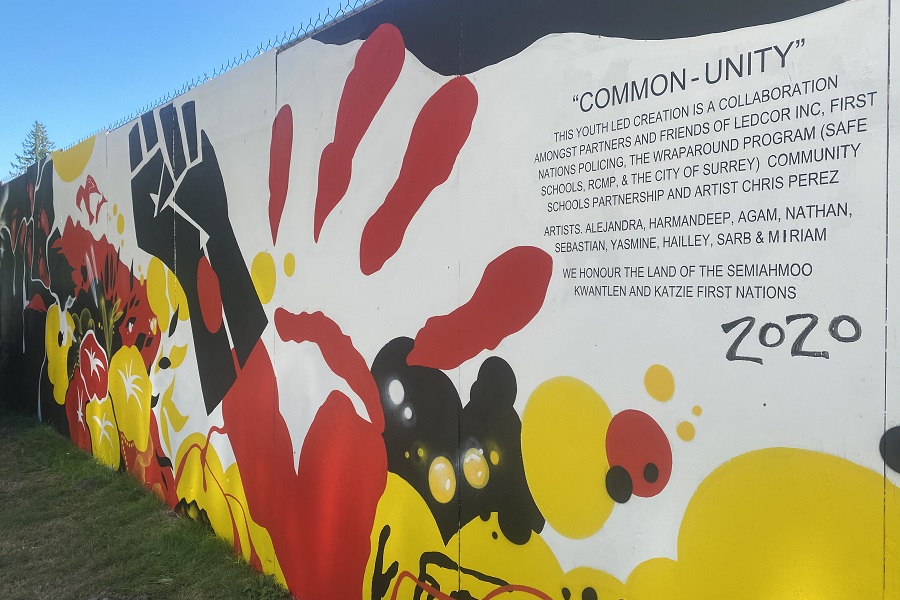 A group of Surrey students are the recipients of the City of Surrey's Beautification & Enhancement Award for Outstanding Community Group for painting a 150-foot mural promoting positivity and racial inclusivity.
Presented at the recent Civic Distinction Awards, the award recognizes outstanding contributions towards the enhancement of Surrey's many communities through increasing a sense of belonging, connection, safety and community. The mural, titled Common-Unity, was painted this past summer near the King George Skytrain Station by 10 Surrey Schools students and staff from the Surrey Wraparound Program (WRAP), in partnership with First Nations Policing, Ledcor and local artist Chris Perez.
"We appreciate having the opportunity to contribute to the art community and create a safe space for people to gather," said Yasmine Nijjar, one of the students who worked on the mural, in the group's acceptance speech.
"We were thankful that we had the opportunity to bring attention to community issues that affect us as youth such as the missing and murdered Indigenous women crisis and the Black Lives Matters movement," added fellow student Hailley DeGraaf.
The mural pays homage to the Semiahmoo, Katzie and Kwantlen First Nations , using colours from the medicine wheel and under the leadership of Const. Troy Derrick of the Gitxsan First Nation.
"The youth have so much more insight into community issues and social justice, more than we know," said Surrey Schools social worker Jon Ross. "It's amazing to give them a platform to express themselves in a community circle where safety, recognition and empathy is a precondition for the depth and quality of contributions can be realized."
Ross said he hopes this recognition from the city can lead to other opportunities for projects like Common-Unity with public spaces or private businesses, all while allowing youth to express themselves artistically.
Seeing how public space is tended to, whether it's picking up garbage or doing a mural, it inspires so many people," he said. "It just starts with a few people that see it, and it can be a wonderful snowball effect where that energy and spirit gets encouraged all over."
Common-Unity was an initiative of the Surrey Wraparound Program (WRAP). WRAP is a partnership between the Surrey School District, RCMP and the City of Surrey. The program's objective is to positively attach youth to school, their community and the home by building a trusting and positive relationship. Parents, caregivers and/or guardians are included in goal setting while assisting the program's objective in building a positive lifestyle and self-worth for youth.