Priority Programs
The Priority Programs listed here are supported almost exclusively by donations and gifts. Donors may direct contributions directly to one of these programs, to a specific school, to an educational area of their own choosing, or may give an unrestricted gift that will allow the district to allocate funds to areas of current greatest need.
Out-of-School Programs
In partnership with a wide range of science, arts, cultural and sports partner groups, the Surrey School District runs several different out of school enrichment programs that support at risk and undeserved students primarily at inner-city schools:
Jumpstart Academy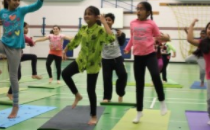 Students who are facing barriers to participation in community sport and recreation are identified to participate in this multi-sport and leadership development program. Jumpstart provides fundamental movement skills and basic sport instruction to more than 2512 students aged 6-12 in over 30 elementary schools.
Funds are needed to sustain the participation of students and expose them to a wider variety of sport instruction that they would not otherwise have access to.
DONATE
BLAST Clubs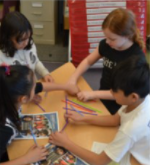 Students aged 9-12 build key skills in physical fitness, cooking and nutrition, STEM-based learning, and leadership through the BLAST (Bringing Learning to After School Time) program. The knowledge and skills that are gained are both transferable to classroom learning and future career aspirations. BLAST sessions aim to build confidence and healthy habits in all participants.
Funds are needed to continue to offer this extremely effective and impactful program which runs at 20 complex schools.
DONATE
Sticks & Stars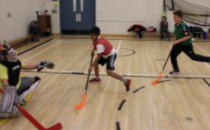 Sticks & Stars is a unique prevention and intervention program that focuses on building science and hockey skills, confidence and positive future goals among at risk boys aged 9-12. Expert specialty sessions are delivered by Pacific Titans Hockey & HR MacMillan Space Centre.
Funds are needed to continue to offer this extremely effective and impactful program, which runs at 3 elementary schools.
DONATE
Girls In Action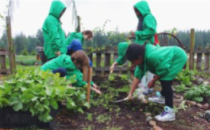 Girls in Action provides skills training in science themes, environmental stewardship, nutrition, and sport to build resilience, fortitude, leadership, and confidence among at risk girls aged 9-12 years old. Participants are provided with hands-on learning opportunities.
Funds are needed to continue to offer this extremely effective and impactful program, which runs at 8 elementary schools
DONATE
REACH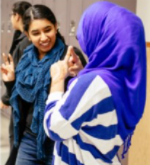 REACH is an employment readiness and leadership development program that supports students aged 15-18 in developing knowledge and skills that are transferable into direct and immediate jobs in fields related to sport, recreation, hospitality, and other services.
Funds are needed to continue to offer this extremely effective and impactful program. Funds will support the expansion of sites and increase the overall number of student participants.
DONATE
Adopt a School
Many schools in the district are currently seeking companies, individuals, community groups or service agencies who can "adopt" them and provide support for basic needs of students and extras that help bring classroom lessons to life. Funding for weekend and evening food for families, extracurricular fees for students who would not otherwise be able to afford them, school supplies and equipment for vulnerable students, transit passes, student field trip costs, post secondary application fees is needed to help students overcome daily challenges and be best prepared to learn in class. To adopt a school, please contact Business Development at 604-595-6066. A list of possible schools and needs can be provided.
Food Programs
When children are hungry, they are at a significant disadvantage to learn. Food is one of the basic building blocks to a good education and proper development. The district and our 129 schools and several partner groups work hard each day to deliver the basic necessities to children in need so that they can learn and play at schools. But we need your help to ensure all children are supported. We operate three district wide food support programs:
Surrey Schools Lunch Program
Students at 34 schools are provided a daily nutritious lunch. Many more schools and students are critically in need of the Lunch Program. It costs approximately $3.40/day per elementary student and approximately $3.99/day per secondary student. Lunch typically consists of a cold entre, fruit or dessert and juice or milk to drive. Lunches are made off site and delivered to directly to the schools. Your donation will make one of the most significant and important differences to a child's development and education. Read more...
Attendance Matters (AM) and Breakfast Programs
Ensure students arrive at school on time every day, and that they are ready, able and motivated for the learning day ahead. More than 500 children at 19 complex elementary schools currently participate in Attendance Matters which provides targeted staffing and outreach to families in need in addition to breakfast. Breakfast Programs operate at an additional 41 schools through volunteers providing daily breakfast to another 1000 children each day. Breakfast consists of cereal, milk, toast, jam, cheese, yogurt, fruit, vegetables, eggs and sometimes special items like breakfast sandwiches or smoothies. It costs approximately $1.25 per breakfast to purchase the food needed to run this program. More funding is needed to provide nutritious, complete food and necessary equipment to operate these 60+ programs and to ensure that all hungry children at schools in Surrey receive breakfast. Read more...
Snack Program
Snacks are distributed each year to students in need at 90 of Surrey's 129 schools, feeding among more than 1000 children per day. This program is operated in partnership with the Surrey Firefighters and is supported entirely through donations from the community. Funding is needed to continue the program and to provide fresh fruit and dairy products.
Scholarships
You may want to donate towards a scholarship for a Surrey student graduating from a secondary school. You may make a one-time donation and therefore have a one-time scholarship or you may donate annually or set up a trust with the scholarship amounts given annually to the student from accrued interest. When setting up a scholarship you may name the scholarship and decide on the criteria and eligibility of the recipient.
Field Trips
Field Trips provide opportunities to bring classroom lessons to life. Conferences, festivals, tournaments and fairs offered throughout the Lower Mainland also allow students to come together to share and learn from each other and from community experts. Many schools, however, are limited in their ability to fund these hands on experiences. Through the field trip program, students at these schools get their chance to venture out of their own back yard, explore the world around them, and experience places they may otherwise never get a chance to visit. One class field trip typically costs $600. Funds are needed to support field trips at more than 25 schools in the district.
Arts Programs
Surrey Schools Jazz Festival
The Surrey School District has been running the Surrey Schools Jazz Festival for 40 years. The 2 day event uniquely combines daytime student competition and performances with evening jazz showcases. The Festival provides students from around the Pacific Northwest with the opportunity to demonstrate their music skills, to learn from each other and from professional musicians and adjudicators, and to perform in world class facilities. Many Festival graduates have gone onto successful jazz careers including Jodi Proznick and Chris Williams.
Music Instruments in Schools
Music instruction is a priority in Surrey. Every school in the district runs a music or band program, however, many are working with outdated or broken or not enough instruments. Donations are needed to provide new or renovated equipment. The instruments most needed at schools currently are flutes, trumpets, clarinets, various drums and a set of handbells.
Technology Programs and Equipment
Quality access to computers and advances in technological equipment is of paramount importance to students today. However, costs for new and replacement equipment are high. Technology brings lessons alive, opens up worlds of information and connects students to other learners and teachers around the globe. It is also increasingly important that students have advanced computer and technology skills when they exit the secondary system. Regular and continuous access to advanced equipment is critical to students' preparation for post-secondary studies and most careers. Many schools struggle to provide high quality equipment that all students can access regularly.
Playground Funding
Elementary school playgrounds are important hubs of play and gathering for the school and community. They encourage physical activity and peer interactions. Schools must pay for their own playground installations and renovations which can be very costly and particularly challenging to fund in inner city neighbourhoods. Gifts to playground upgrades and necessary replacements will have an important and long lasting impact on an entire school community and can be matched to the donors neighbourhood of choice.
Individual Schools
Each of the district's 129 schools has its own unique needs including library books and equipment, sports team funding, arts projects, garden installations, grounds improvements, special programs and support for individual students in need. Gifts to individual schools are gratefully accepted. The Business Development office can assist donors to match their gifts to a school in their area and to projects of interest at that site.