Canadian Literary Centre

Brief Description: Full text articles, essays, literary criticism, and book reviews focussing on Canadian literature and authors.
Suitable for: Grades K to 12
Access: Log in using the generic digital resources username and password. If you don't know the generic login, ask your school's Teacher Librarian.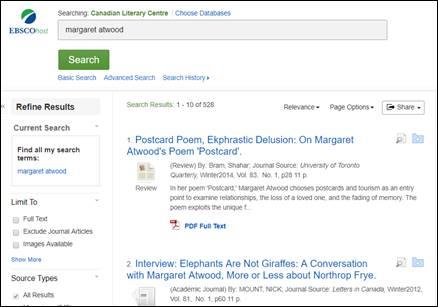 Vendor Description: The Canadian Literary Centre consists of book and reference content from Essays on Canadian Writing Press (ECW Press.) ECW Press also provides several individual monographs and biographies, essays and literary criticism. The database includes book reviews, essays, author biographies, and much more. This database is updated on a daily basis.
Parent Resources:
- MLA, APA, and other Citation style guides can be found by clicking on

> Help >Citation Styles. (Bottom left of the pop-up page.)
Teacher Resources:
- Help documents and tutorials about advanced searching, browsing, saving and other features of the Canadian Points of View database can be found Here.
Click Here to access Canadian Literacy Centre