EBSCO Host

Login Information: Log in using the generic digital resources username and password. If you don't know the generic login, ask your school's Teacher Librarian.
Suitable for: Grades 8 to 12
Brief Description: EBSCO Host is a research interface for multiple EBSCO databases.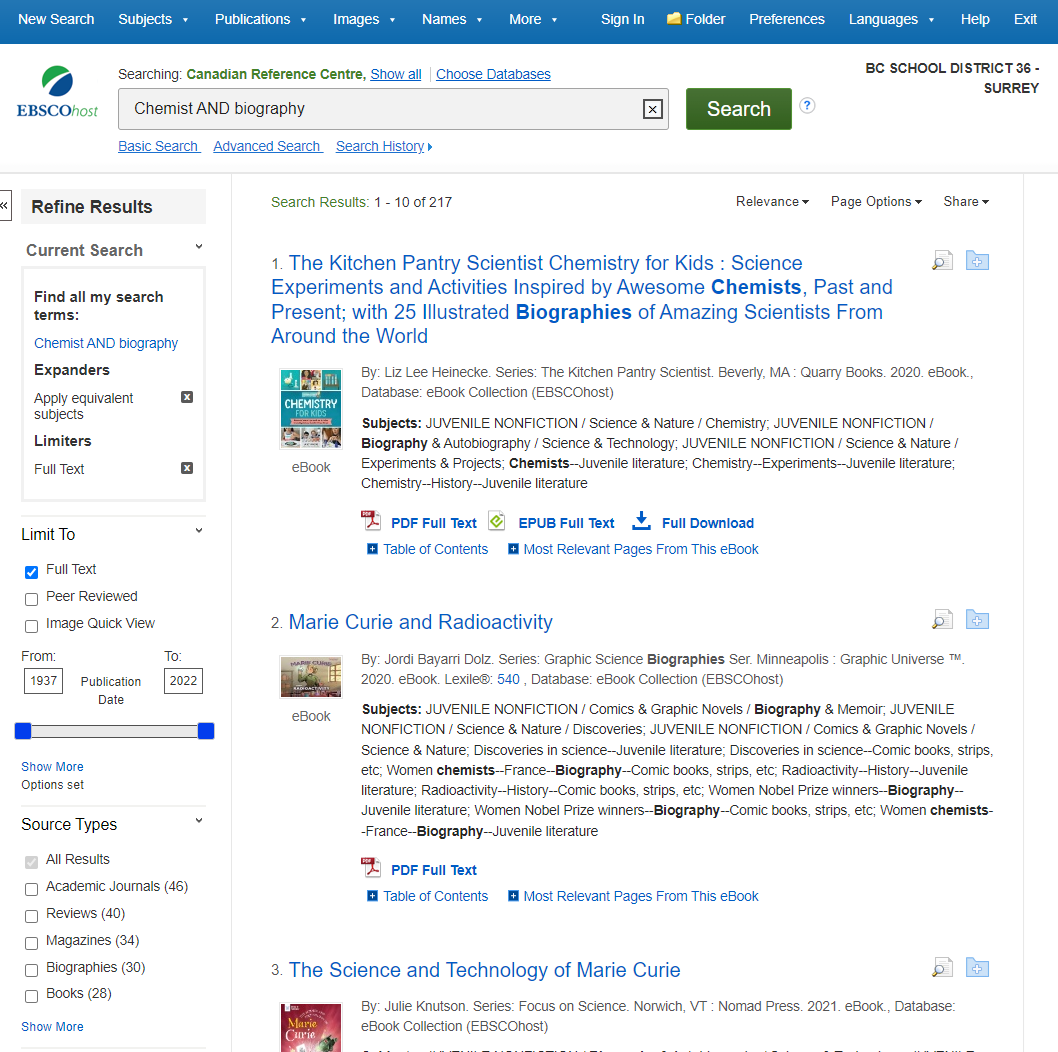 Vendor Description: EBSCO Host is an online research platform used by thousands of institutions worldwide. With quality databases and search features, EBSCO Host helps researchers of all kinds find the information they need, fast.
Databases include:
| Name | Description |
| --- | --- |
| Canadian Reference Centre | Contains Canadian magazines, newspapers, newswires and reference books. Includes full text biographies, and a collection of over 502,000 images. Updated daily. |
| GreenFILE | Collects scholarly, government and general-interest titles. Includes content on global warming, green building, pollution, agriculture, renewable energy, human impact to the environment, and more. |
| Academic Search Premier | Provides full text for more than 4,600 journals, including full text for nearly 3,900 peer-reviewed titles. Covers a variety of subject areas. |
| MasterFILE Premier | Covers virtually every subject area of general interest by providing full text for nearly 1,700 periodicals. Also contains over 164,400 primary source documents. Updated daily. |
| Consumer Health Complete | Provides content covering all areas of health and wellness from mainstream medicine to complementary, holistic and integrated medicine. Updated weekly. |
| Funk & Wagnalls New World Encyclopedia | This database provides over 25,000 encyclopedic entries covering a variety of subject areas. |
| Primary Search | Provides full text for more than 70 popular magazines for elementary school research. All full text articles included in the database are assigned a Lexile reading level indicator. |
| Middle Search Plus | Provides full text for more than 140 middle school magazines. Full text articles are assigned a Lexile reading level. Includes biographies, historical essays, and primary source documents. |
| Canadian Literary Centre | Contains book and reference content from Essays on Canadian Writing Press (ECW Press). The database includes book reviews, essays, author biographies, and more. Updated daily. |
| Literary Reference Center | Provides full-text plot summaries, articles/essays of literary criticisms, author biographies and interviews, literary journals, book reviews, poems, and short stories. |
Student Resources:
- Generate citations by clicking on the "Cite" button on the right-side menu of any article.
Teacher Resources:
Databases for educators include:
| Name | Description |
| --- | --- |
| Library, Information Science & Technology Abstracts | Indexes more than more than 600 journals, books, research reports and proceedings. Covers librarianship, classification, cataloging, online information retrieval and management, and more. Only includes abstracts. |
| Professional Development Collection | Provides a specialized collection of nearly 520 education journals, including 350 peer-reviewed titles. This database also contains more than 200 educational reports. |
| Teacher Reference Center | Teacher Reference Center provides indexing and abstracts for 280 of the most popular teacher and administrator journals and magazines to assist educators. |
- FAQs, Training, Interface User Guides and other help documents can be found Here.
Click Here to access EBSCO Host