Canadian Points of View

Login Information: Log in using the generic digital resources username and password. If you don't know the generic login, ask your school's Teacher Librarian.
Suitable for: Grades 4 to 12
Brief Description: Resources that explore opposing sides of current issues from Canadian perspectives. Useful for writing essays, and points for debates.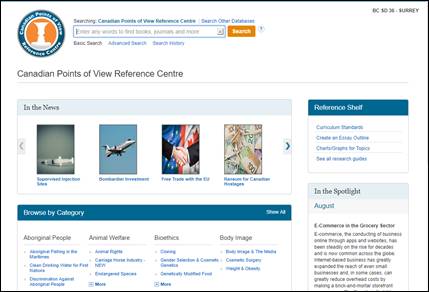 Vendor Description: Containing resources that present multiple sides of a current issue — including information on key topics of interest to Canadian researchers — this database helps students develop persuasive arguments and essays, better understand controversial issues, and develop analytical thinking skills. Includes more than 820 main essays on 200 topics. Subjects include: Aboriginal people, citizen's rights, the environment, global issues, health and medicine, media, social issues, technology, and women's issues. This database is also useful for debates and essays.
Student's Resources:
- Generate MLA, APA, and Chicago style citations by clicking on "Cite" in the right-hand menu of any article.
Teacher Resources:
- Help documents and tutorials about advanced searching, browsing, saving and other features of the Canadian Points of View database can be found Here.
Click Here to access Canadian Points of View