Gale E-books


Login Information: Log in using the generic digital resources username and password. If you don't know the generic login, ask your school's Teacher Librarian.
Suitable for: Grades 8 to 12
Brief Description: Multidisciplinary reference eBook database.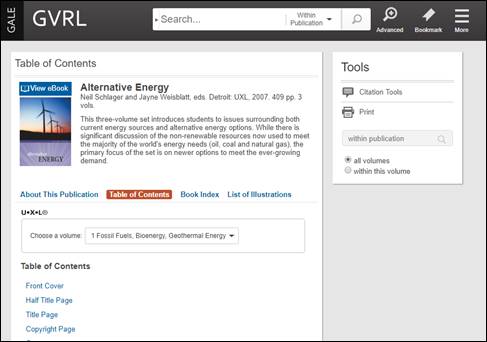 Vendor Description: Gale Virtual Reference Library offers online access to encyclopedias, dictionaries, and almanacs. Subjects include Arts, Environment, History, Law, Literature, Medicine, National and World culture, Religion and Science. Last updated in 2007.
Reference Titles Available:
| Title: | Description: |
| --- | --- |
| Alternative Energy (2007) | Introduces students to issues surrounding both current energy sources and alternative energy options. |
| Ancient Civilizations Reference Library(2000) | Focuses on the ancient civilizations of Iraq, Egypt, India, China, Central America and other regions. |
| Arts and Humanities Through the Eras (2005) | Focuses on arts, literature, music and religion from a specific period. Each volume helps students understand the various disciplines of the humanities. |
| Canadian Parliamentary Guide (2005) | Provides information on the Canadian Parliament in both English and French. Includes biographical information, historical statistics, and more. |
| Dictionary of the Israeli-Palestinian Conflict (2005) | Covers the history of the Arab-Israeli conflict from the birth of Zionism at the end of the 19th century. Includes biographies, demographics, and more. |
| Encyclopedia of Islam and the Muslim World (2004) | Discusses Islam's role in the modern world, doing so in the context of the religion's history and development over the last 13 centuries. |
| Encyclopedia of Philosophy (2006) | Presents philosophical subjects in a clear and concise manner. This Encyclopedia is a great first-stop resource for general readers, students and educators. |
| The Gale Encyclopedia of the Unusual and Unexplained (2003) | Provides information on topics relating to magic, witchcraft, and other supernatural phenomena, written at a level that younger students can understand. |
| Governments of the World: A Global Guide to Citizens' Rights and Responsibilities (2006) | Describes how different governments around the world affect their citizen's rights and responsibilities. |
| Grzimek's Animal Life Encyclopedia (2003) | Describes animals around the world. Incorporates recent developments in biology by citing prominent contributors |
| Industrial Revolution Reference Library (2003) | Covers the ideas and social turmoil that marked this transition as well as the machines, manufacturing processes and energy sources that spurred it on. |
| Junior Worldmark Encyclopedia of the Canadian Provinces (2004) | Provides students with up-to-date information on all of Canada's provinces and territories. |
| Major 21st-Century Writers (2005) | Contains biographical and bibliographical information on the most-studied authors at the turn of the 21st century. Includes more than 1,000 biographies. |
| New Dictionary of the History of Ideas (2005) | Surveys the history of Western thought and culture. Each entry explores the origin, interpretations, and themes of subjects like beauty, love, feminism, diversity, and many others. |
| Nutrition and Well-Being A to Z (2004) | Examines the relationship between food and health on a historical, national and personal level. Analyzes how nutrition has affected quality of life at different times in history. |
| Prejudice in the Modern World Reference Library (2007) | Explores the many different types of prejudice, their history, what causes these prejudices, and their consequences. |
| UXL Encyclopedia of Drugs and Addictive Substances (2006) | Provides detailed information on 52 drugs and other addictive substances, defined as illegal drugs, legal addictive drugs and other substances that are abused. |
| World Religions Reference Library (2007) | Provides a thorough, objective resource covering the history, traditions and worldviews of dominant and less prominent religions and their sects and offshoots. |
Click Here to access Gale Virtual Reference Library.