Gale: Science in Context

Login Information: Log in using the generic digital resources username and password. If you don't know the generic login, ask your school's Teacher Librarian.
Suitable for: Grades 8 to 12
Brief Description: Articles, activities, experiments, projects and reference materials examining the science behind contemporary, real-world issues.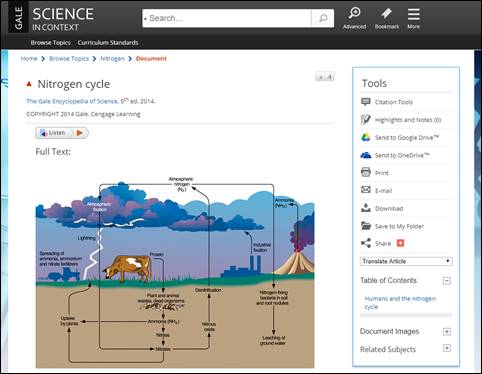 Vendor Description:
Science In Context is an online resource that provides contextual information on hundreds of today's most significant science topics. Drawing students in with captivating subject matter, Science in Context showcases how scientific disciplines relate to real-world issues ranging from bacteria to obesity and weather. The collection includes millions of full-text articles, as well as 200+ experiments, and reference content.
Student Resources:
- MLA, APA and Chicago style citations can be generated by clicking on "Cite" above any article.
Teacher Resources:
- Educator Resources such as curriculum standards, research & report tips, and worksheets for high school students can be found by clicking on Curriculum Standards and Educator Resources at the bottom of the homepage
- Training support for teachers can be found here: Science in Context Training Support. This includes lesson plans, projects, scavenger hunts, resource guides, tip sheets, and videos.
Click Here to access Science in Context