National Geographic Kids

Login Information: Log in using the generic digital resources username and password. If you don't know the generic login, ask your school's Teacher Librarian.
Suitable for: Grades K to 7
Brief Description: Complete issues of National Geographic Kids magazine plus downloadable images, ebooks and National Geographic readers. Topics include: history, biography, archeology, science, technology, wildlife, pets, nature and more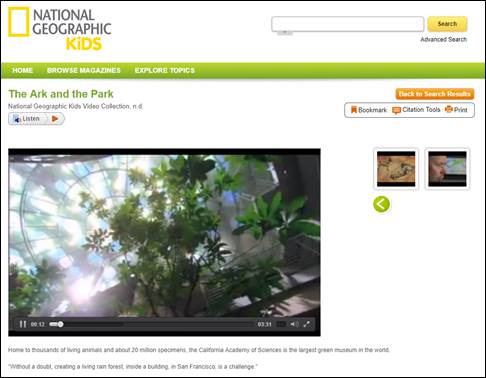 Vendor Description:
Engage students with reputable, authoritative, and age-appropriate content. National Geographic Kids will take them on amazing adventures in science, nature, culture, archaeology, and space. Features full-text copies of National Geographic Kids magazine, 200 books, videos, and kid-friendly images.
Student Resources:
- Samples of MLA and APA Citation Styles can be found by clicking on Help>Sample APA/MLA Citations to help students create bibliographies.
Teacher Resources:
- Help documents and tutorials about Advanced Search options, citations and other topics can be found by clicking on Help.
- Training support for this resource can be found here: National Geographic Kids Training. Includes scavenger hunts and videos.
Click Here to access National Geographic Kids