Gale: Global Issues in Context

Login Information: Log in using the generic digital resources username and password. If you don't know the generic login, ask your school's Teacher Librarian.
Suitable for: Grades 8 to 12
Brief Description: Research database with print resources, video clips and primary source documents on international topics, including: news, countries, statistics and current global issues.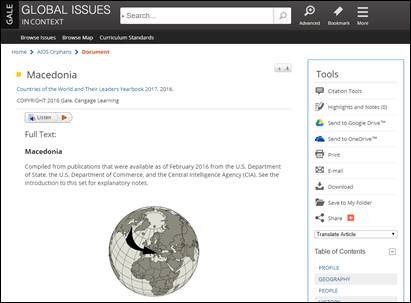 Vendor Description: Global Issues in Context supports global awareness and provides a global perspective while tying together authoritative content and empowering learners to critically analyze the most important issues of the modern world. Integrating news, global viewpoints, reference materials, country information, primary source documents, videos, statistics, and more in a single search—Global Issues In Context is updated daily and offers 250 different country topic pages and more than 400 Issue pages.
Student Resources:
- MLA, APA and Chicago style citations can be generated in the "Source Citation" section at the bottom of any article.
Teacher Resources:
- Educator Resources such as Curriculum Standards and Research & Report tips and worksheets for high school students can be found by clicking on Educator Resources or Curriculum Standards at the bottom of the homepage.
- Training Support for this resource can be found here: Global Issues in Context Training. This includes Lesson plans, scavenger hunts, resource guides, tip sheets, and videos.
Click Here to access Global Issues in Context