Gale: Canada in Context

Login Information: Log in using the generic digital resources username and password. If you don't know the generic login, ask your school's Teacher Librarian.
Suitable for: Grades 8 to 12
Brief Description: Research database with print resources, video clips and primary source documents on international topics, including: news, countries, statistics and current global issues.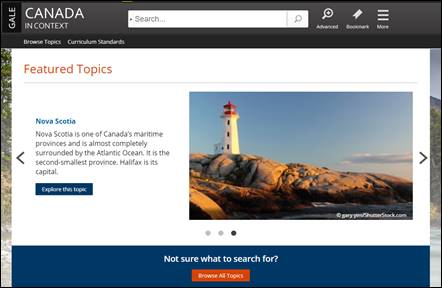 Vendor Description:
Canada In Context is an online experience for those seeking contextual information on a broad range of Canadian topics, people, places, and events. Featuring Gale's authoritative and continuously updated reference material and focused on a Canadian perspective, this database organizes full-text magazines, academic journals, news articles, primary source documents, images, videos, audio files, and links to vetted websites.
Created for students and researchers studying Canada, its people, and its history, Canada In Context spans the North American continent to deliver a full range of country-specific topics including First Nations Government of Canada, Canadian Literature, Gun Control/Gun Registry, and biographies of Canadian figures, as well as information on technology, sports, industry, and more, all delivered from a uniquely Canadian perspective. Curriculum-aligned content includes encyclopedias, CBC videos, NPR audio selections, global news feeds, and articles from Canadian newspapers and magazines.
Student's Resources:
- MLA, APA and Chicago style citations can be generated for any article using the "Source Citation" textbox at the bottom of the page.
Teacher Resources:
- Educator Resources such as curriculum standards, worksheets, and Research & Report tips for high school students can be found by clicking on "Educator Resources" or "Curriculum Standards" at the bottom of the homepage.
- Training support for teachers can be found here: Canada in Context Training. This includes scavenger hunts, resource guides, tip sheets, and videos.
Click Here to access Canada in Context