CBC Curio


Login at school: Students / Teachers: Users are logged in automatically from any district computer.
Login at home:
- Students: Create a personal account for offsite viewing. Please ask your Teacher or Librarian for sign up-instructions.
- Teachers: Create a personal account for offsite viewing. Please see the CBC Curio & Radio-Canada Access handout (PDF) for sign-up instructions.
Suitable for: Grades K to 12
Brief Description: Streaming video service with educational videos, audio files and television programs from CBC / Radio-Canada. Includes News in Review and National Geographic programming.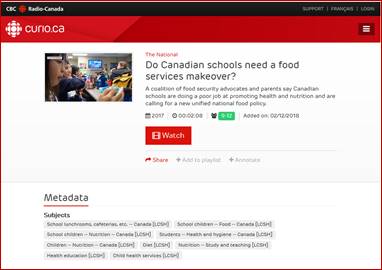 Vendor Description:
Curio is CBC / Radio-Canada's online streaming service containing documentaries, news, dramas, and children's programming in both English and French. New content is added every week.
The collection includes thousands of programs and hundreds of teacher resource guides carefully curated to support provincial K-12 curricula.
Parent Resources:
Closed captioning is available for most newly added programs, and will expand to all Curio programming over time.
Teacher Resources:
How to Use Video Effectively in the Classroom Guide, available in both French and English.
Curriculum Correlations are available to help teachers identify the content that correlated to specific courses in all K-12 provincial curricula.
For more information about CBC Curio, please Click Here.
Curio offers a newsletter to stay up to date with their latest releases. To sign up, access Curio.ca, scroll to the bottom of the page, and enter your email address in the textbox provided.
Click Here to access CBC Curio (English)
Click Here to access Radio-Canada Curio (French)