Surrey Schools summer food programs feed more than 2,000 families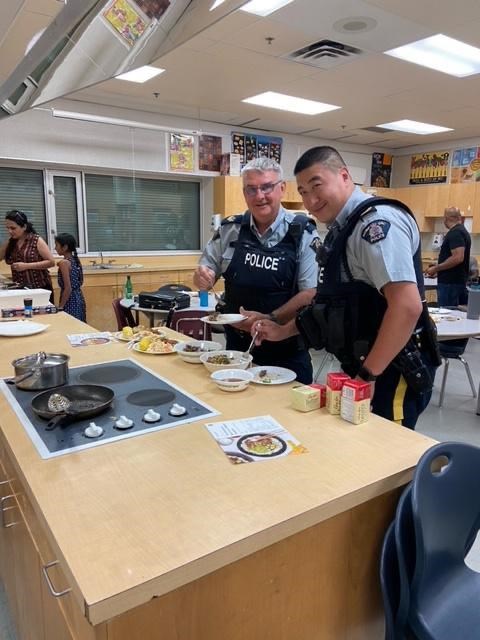 Surrey RCMP were on hand to help out during the summer Feeding Futures programs.Thanks to provincial funding granted to the district earlier this year, Surrey Schools was able to support more than 2,000 families and serve over 20,000 meals during summer break.
"Being able to bridge those months was a big deal for a lot of families and we were grateful to have the funds and resources available to provide that support," said Rob Rai, director of School and Community Connections.
One of the key focuses for this summer's program was ensuring that families, particularly newcomers, were able to access food that was culturally informed and familiar.
"So there was a big effort to source things like spices, certain types of rice, produce and proteins that were part of these families' everyday diet."
These efforts, Rai said, did not go unappreciated.

"Some of these families came with all of their kids to pick up the food and you could see, even on the faces of the kids, that they were just so ecstatic to be receiving the type of food that they already know."
Another positive component of the summer meal program was having RCMP members on hand to help facilitate. The involvement not only boosted the number of helping hands but allowed police to connect with families.
"For some of our families, it was their first time interacting with an officer, so this was a chance to have a positive first impression and interaction," said Rai. "We had little kids coming in with their families, high fiving the RCMP officers, getting an RCMP sticker."
Looking ahead, Manager of Feeding Futures Cristel Moubarak said the district is hard at work enhancing and expanding programs and partnerships for the new school year.
"With the Feeding Futures funds comes a lot of exciting opportunities to improve our menu offerings with cultural diversity and representation, variety, quality and packaging sustainability to our school meal programs that we've not been able to previously," she said.
In addition to those enhancements, there's the expansion of the BC Agriculture in the Classroom program, as well as exploring the additional support to teaching kitchens and canteens at secondary schools to offer hot meals to students in need.
"There's an issue of equity and diversity and so we want to ensure there's more dignity there for anyone in need of a meal, so students can go to the school's cafeteria and get a hot meal like any other student," she explained. "No student should have to worry about food and we're working to make sure we can address that in a dignified way."

To learn more about B.C.'s Feeding Futures program, click here.