Panorama Ridge Secondary gets ready to rumble for wrestling fundraiser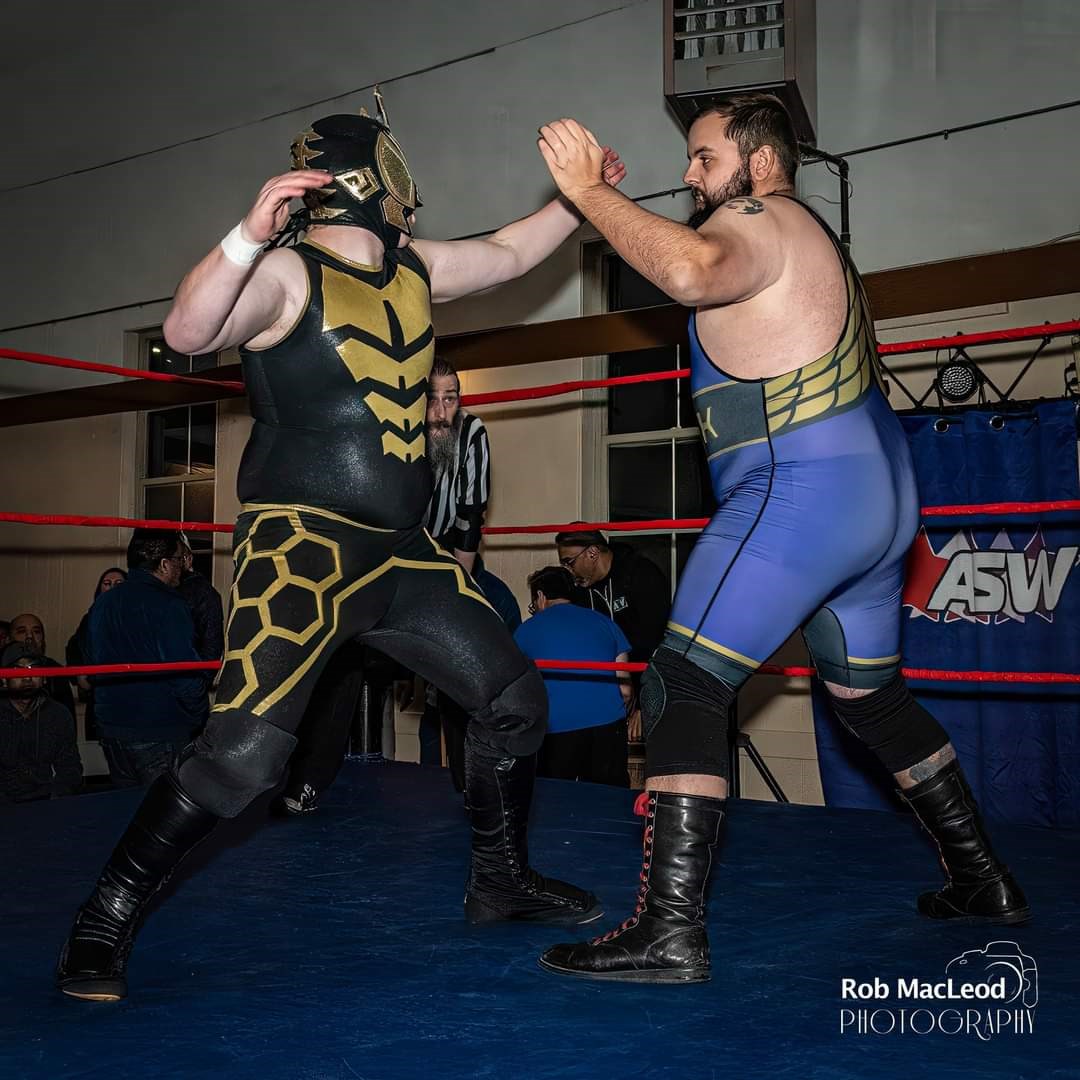 Joseph Beland (right) is a Panorama Ridge physics and math teacher who wrestles as 'Joe Funk'When it comes to high school wrestling, competitors generally don't need to worry about wrestling in a ring or dealing with opponents jumping off a top rope towards them.
But for one night only at Panorama Ridge Secondary, there will be all sorts of theatrics and high-flying maneuvers on display as local professional wrestling league All Star Wrestling (ASW) holds a special fundraising event in benefit of the school's new wrestling team.
The event, called Rumble at the Ridge, will feature a host of colourful ASW entertainers performing a series matches more akin to what you'd see from the likes of Hulk Hogan and Stone Cold Steve Austin than anything from a high school wrestling meet. Panorama Ridge teacher Joseph Beland will even be donning his tights to take part.
A physics and math teacher, Beland is the founding coach of the school's wrestling team and has also been competing as professional wrestler 'Joe Funk' for the past 10 years.
Beland came up with the idea for a fundraiser after the 13-person team, which was just formed in fall 2022, was unable to afford to attend a tournament on Vancouver Island earlier this year.
"There's a large event in Port Alberni every February and the kids were really excited to go but we just couldn't get out there," explained Beland. "The cost for accommodations, ferry and everything else was just too much to ask from families."
Beland said because the team is still so new, there is also a need for equipment such as shoes and singlets.
"So any other funds raised will go towards that. We're also just trying to build up a repository of gear for this and future years."
Prior to 2022, Beland said Panorama Ridge had a handful of students wrestling independently, but it wasn't until he became a permanent teacher at the school that they were able to come together as a team.
"I knew there were some mats down in the equipment room and that a few kids had been doing it on their own, so with the support of the athletics department we were finally able to get ball rolling," he said.
With team members in Grades 8 to 12, Beland said students at Panorama Ridge seem to have a natural aptitude for the sport.
"We had seven of them qualify for provincials and two or three of them were completely new to wrestling," he said. "So that was a big first year for us, but we just want to keep that momentum rolling and give these students some more opportunities."
Beland is also looking forward to showing his students what professional wrestling is and how it differs from the freestyle and Greco-Roman styles that they compete in.
"I don't think any of them have ever actually seen a live professional wrestling show," he laughed. "I think it'll be a bit of a shock when they see me step out there and start hitting some suplexes and things like that."
In addition to Beland and other ASW wrestlers, the Rumble at the Ridge will feature Canadian wrestler Sebastian Wolfe, a member of the Pasqua First Nation, who will speak about the indigenous perspective of sports, camaraderie and building a strong community.
Wolfe's involvement is timely, said Beland, as the wrestling event takes place just two days before Truth and Reconciliation Day.
The Rumble at the Ridge takes place Thursday, Sept. 28 at Panorama Ridge Secondary (13220 64 Ave, Surrey) at 6 p.m. Tickets will be available at the door and Panorama Ridge students, families and staff can purchase tickets at the school beforehand.
For more information, contact Beland at beland_j@surreyschools.ca.