Surrey Schools hosting Vaping Information Session at Tamanawis Secondary May 27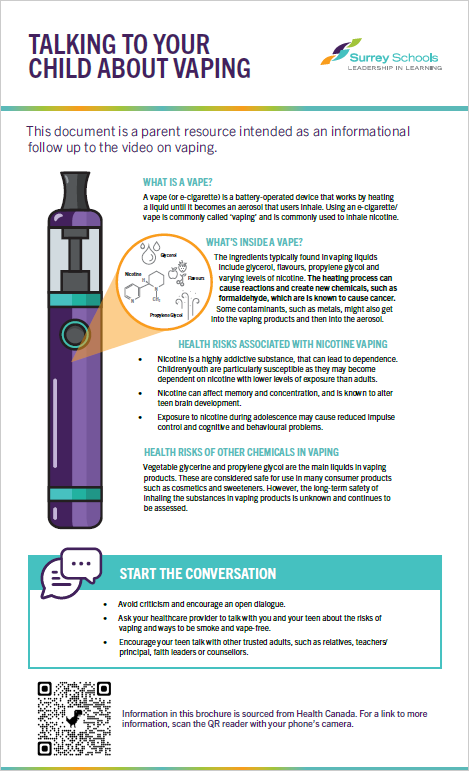 The district is offering an information session on the dangers of vaping and supports available on Saturday, May 27, at Tamanawis Secondary.
Parents and students are invited to attend this session, which will be offered in an open house style, with staff on hand to share information and resources in multiple languages, and answer questions directly in English, Punjabi, Dari, Pashto, Cantonese, Mandarin and Spanish. The session follows a recent commitment by the district and the Surrey Board of Education to make vaping awareness a priority so students and parents understand the damaging effects of vape use and are aware of the supports available to stop vaping.
"While we've seen a decrease in the number of students smoking, we're seeing an increasing number of youth who are engaging in vaping – there seems to be a disconnect between the harms of vaping versus the harms of smoking," said Jaclyn Blaney, Community Schools Partnership facilitator with Safe Schools.
"This forum is an opportunity for us to share some information with parents in the community in the hopes that we can really work as a cohesive team to help support our youth in not engaging in vaping-related behaviours."
Parents will learn about the risks of vaping – including the highly addictive nature of nicotine in vaping products – the marketing of flavoured vaping products toward young people, the differences between vapes and e-cigarettes, and the unknown potential negative consequences of vaping due to limited research on its long-term health effects. They will also hear about the district's supports through the Substance Use Liaison (SUL) team, and community partners will be in attendance to share their resources with parents.
"We'll have vapes out for them to see because we want parents to understand what vapes are – what they look like, what can be put in them, and to learn more about how they are used and the harm they do," said Blaney. "We want to work with the community to support our youth."
The district currently offers anti-vaping support to students through substance use liaisons, who meet with students one-on-one for any substance use support. The SUL team also hosts in-school presentations to educate and inform students on vaping and substance use.
Last year, Safe Schools worked with Fraser Health to develop a one-page vaping information sheet (available in multiple languages, see Resources below) and conducted a districtwide survey on vaping harm specific to Surrey.
The vaping information session runs from 10 a.m. to noon on Saturday, May 27, at Tamanawis Secondary in the small gym.
Resources:
Information Sheet: Vaping: Talking to Your Child (Arabic, Simplified Chinese, Traditional Chinese, Punjabi, Spanish, Vietnamese)
Parent Brochure: Vaping: What You Need to Know