Surrey Schools honours Canadian jazz legend Eleanor Collins at Jazz Festival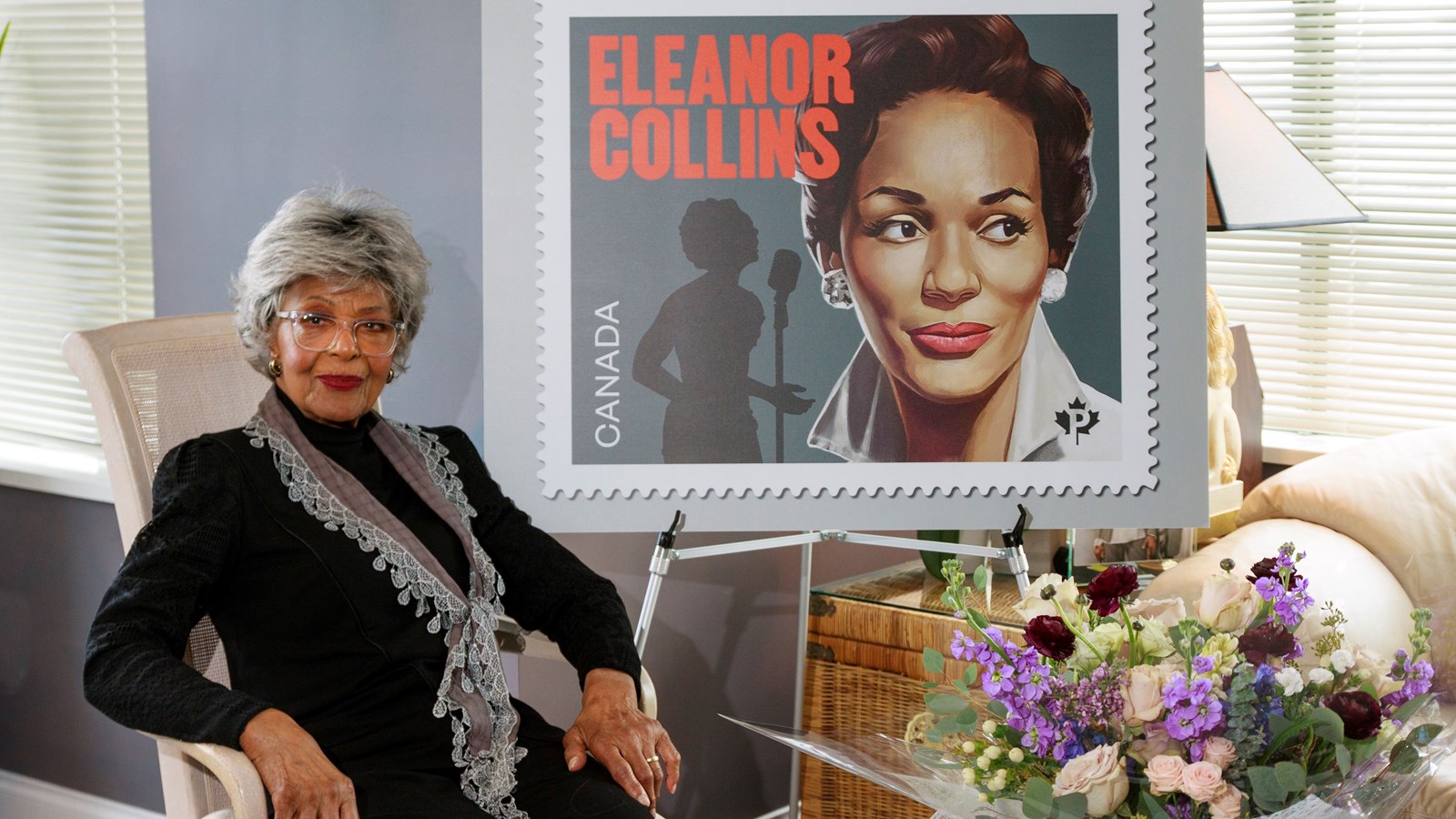 Canadian jazz pioneer Eleanor Collins, Canada's First Lady of Jazz, is being honoured at this year's Surrey Schools International Jazz Festival for her lifetime of accomplishments onstage, onscreen and as a civic leader. (Photo courtesy of Judith Maxie)
She's Canada's First Lady of Jazz, and fittingly, Eleanor Collins will be the first musician to be formally recognized and honoured for her contributions to the genre at this year's Surrey Schools International Jazz Festival on Friday.
As part of the 41st annual festival, the district will present the 103-year-old Collins with a pendant representing her ongoing inspiration to both music students and Black Canadians, as a jazz pioneer who broke down barriers of race and achieved tremendous success in music and television.
"Her contributions to the jazz genre are vast, and her story is so important, not just to our district, but nationally," said Laurie Larsen, Chair of the Surrey Board of Education. "As the first Black artist to host a national, weekly television series, she was a trailblazer, inspiring many during her decades-long career. She embodies the values that we work so hard to impart to our students."
"We are surprised but gratified that so many young people have connected with Eleanor's story," said Judith Maxie, Collins' daughter, who is accepting the award on her behalf. "We have also been very impressed with the dedicated, creative, engaging young teachers who are clearly trying to inspire and make a difference in the lives of their young students and have thus taken Eleanor's Stamp and story to them. Those teachers and educators inspire us!"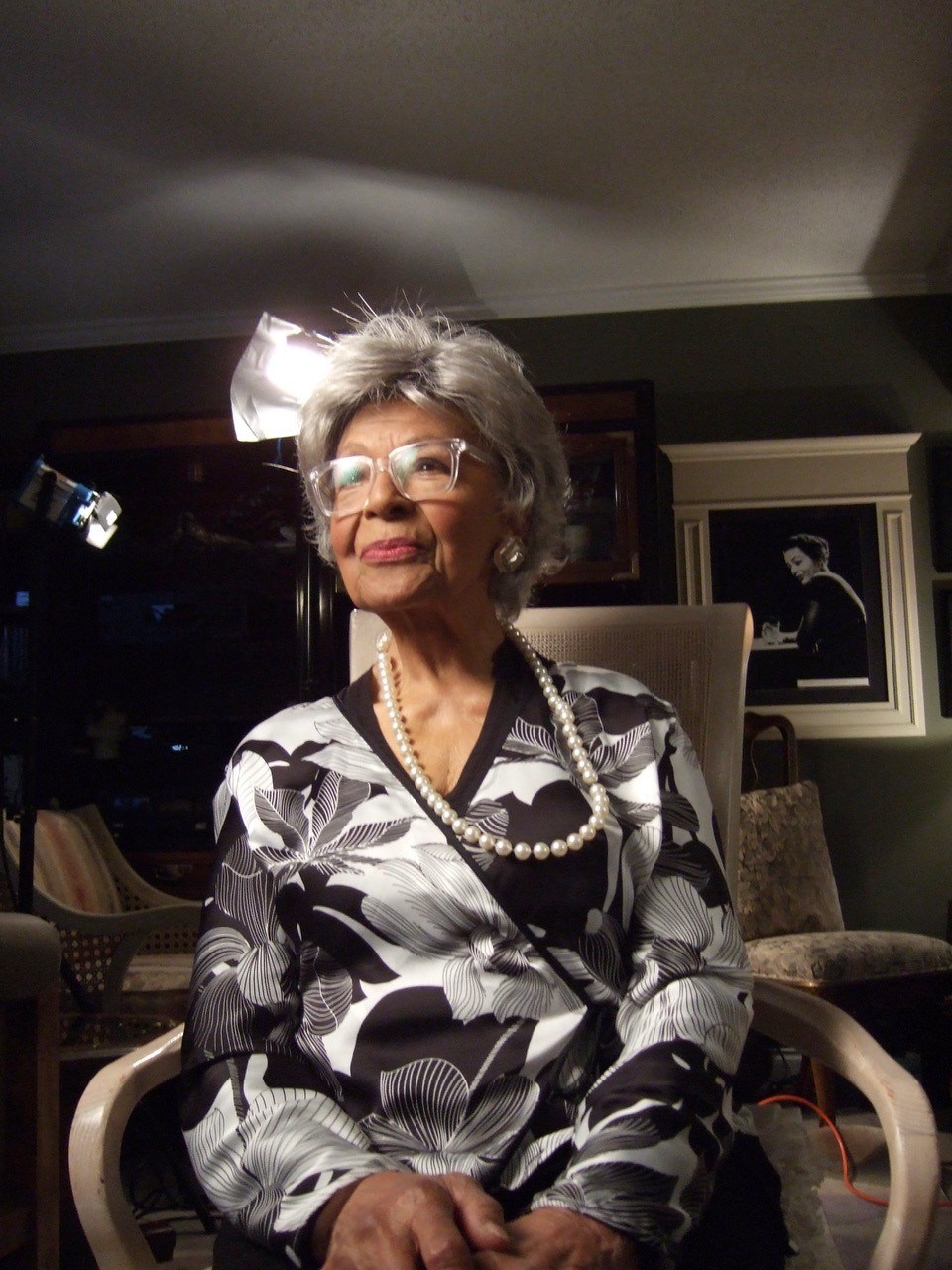 Eleanor Collins, pictured here from December 2021, had a decades-long career in music and television. She is known for being the first woman, first person of colour and first jazz singer to headline a show on national television with CBC's The Eleanor Show. (Photo courtesy of Judith Maxie)With a singing career that began in the 1930s, Collins became a fixture of CBC programming after relocating to Vancouver from Edmonton, first performing gospel music on CBC Radio with the Swing Low Quartette from 1940 to 1942 before alternating to jazz with the Ray Norris Quintet on the Serenade in Rhythm program in 1945.
Following a brief retirement in the late '40s and early '50s, she adapted to the stage, appearing in productions of Finian's Rainbow, You Can't Take it With You and Kiss Me, Kate by Theatre Under the Stars. This led to more on-screen work with CBC in 1954, joining the cast of the variety series Bamboula: A Day in the West Indies, marking the first interracial cast in Canada.
The next year, Collins was invited to star in The Eleanor Show, making her the first woman, person of colour and jazz singer to headline a show on national television, predating the Nat King Cole Show.
In the entertainment industry and in her personal and community life, Collins faced racial adversity, including an unsuccessful neighbourhood petition to prevent her family from moving into a Burnaby neighbourhood in 1948. Despite these challenges, she pushed back against racism, even turning down offers to work in segregated parts of the United States and confronting producers on glaring inequities.
She became a civic leader, using her music to fundraise at Victory Bond rallies and World Brotherhood and International Week events, among other social causes.
"She carried an innate interest in human welfare and employed many different kinds of social impact work in order to make a difference in the lives of others," said Maxie. "She also believed that it was a way for others to get to know a minority race person and see that we shared many of the same values and thus our similarities were always greater than our differences."
"She responded to discrimination by immersing herself in the community, by volunteering to sing at the local school," said Jackie Howard, district principal with Priority Practices. "She joined the choir, she did charity work – she tried to foster relationships and build understanding and she did so with kindness and generosity."
Collins continues to be an inspiration to generations of students, and for this year's Surrey Schools International Jazz Festival, she has a message to share with each of the music ensembles.
"It makes me so happy to think any part of my story and my history might have inspired you," said Collins. "My life continues to be blessed with some of the most amazing people, like each of you. I am so grateful you are now a part of my 103-year journey."