Science
Science Department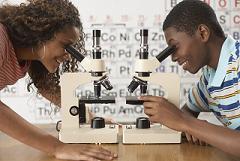 Science provides opportunities for us to better understand our natural world. Through science, we ask questions and seek answers to grow our collective scientific knowledge. We continually revise and refine our knowledge as we acquire new evidence. While maintaining our respect for evidence, we are aware that our scientific knowledge is provisional and is influenced by our culture, values, and ethics. Linking traditional and contemporary First Peoples understandings and current scientific knowledge enables us to make meaningful connections to our everyday lives and the world beyond.
The Science curriculum takes a place-based approach to science learning. Students will develop place-based knowledge about the area in which they live, learning about and building on First Peoples knowledge and other traditional knowledge of the area. This provides a basis for an intuitive relationship with and respect for the natural world; connections to their ecosystem and community; and a sense of relatedness that encourages lifelong harmony with nature.
The Science curriculum includes content from biology, chemistry, physics, and earth and space sciences at the K–9 level. In Grades 10–12, the content expands to include anatomy and physiology, environmental science, and geology. The curriculum gives students the opportunity to develop the skills, processes, attitudes, and scientific habits of mind that allow them to pursue their own inquiries using scientific methods. Using critical thinking, creative insight, and their current scientific knowledge, students collaborate, investigate, problem solve, communicate, innovate, discover, and increase their understanding of science through hands-on experience. Students have opportunities to develop personal and social awareness of their roles and responsibilities with respect to the environment. By cultivating an appreciation for the field of science, students can recognize opportunities to apply their knowledge in their everyday lives or contribute to science in their future careers.
The intent of the curriculum is to develop scientifically literate citizens who have a critical awareness of the role of science in society, combined with a caring and responsible disposition and an understanding of the social, health, ethical, and environmental dimensions of issues. Scientifically literate citizens are able to use scientific evidence, as well as their knowledge from other areas of learning, to develop their own views, discuss and debate, and make informed decisions in their daily lives and about broader issues, while maintaining their curiosity and wonder about the natural world.
Contacts
| Last Name | First Name | Email Address | Job Title |
| --- | --- | --- | --- |
| El Halabi | Louay | elhalabi_l@surreyschools.ca | Teacher |
| Gill | Pam | gill_pardeep@surreyschools.ca | Teacher |
| Harrison | Kristy | harrison_kristy@surreyschools.ca | Teacher |
| Hunter-Jivung | Susan | hunter_s@surreyschools.ca | Teacher |
| Lim | Susan | lim_susan@surreyschools.ca | Teacher |
| Peterson-Bryne | Kelly | peterson_kelly@surreyschools.ca | Teacher |
| Senicki | Carley | senicki_c@surreyschools.ca | Teacher |
| Slater | Alana | slater_a@surreyschools.ca | Teacher |
| Winkler | Denny | winkler_d@surreyschools.ca | Teacher |
| Yang | Sophia | yang_sophia@surreyschools.ca | Teacher |
| Yeung | Andrew | yeung_a@surreyschools.ca | Department Head |

Quick Links