Learner Support Team
ACADEMIC SUPPORT (LST)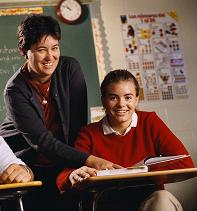 The purpose of academic support is to promote success in academic subjects through tutorial instruction, assist students' efforts to develop organization and study skills, and provide skill-building strategies/support for areas of learning difficulty.
Classrooms equipped with audio-visual equipment and computers serve as tutorial centers where students receive subject support, participate in one-on-one and group tutorials, and work on skill- building activities. In addition to the academic support classes, learner support team (LST) staff members support students in the subject classrooms. LST teachers also communicate students' academic needs to classroom teachers and advocate and design relevant accommodations that will promote success.
Enrolment in an academic support block is based on academic need and the availability of space. Students are approved for enrolment after a needs review. Students who are having academic difficulties should see their school counsellor to explore options.
Contacts
| Last Name | First Name | Email Address | Job Title |
| --- | --- | --- | --- |
| Allison | Andrea | allison_a@surreyschools.ca | Education Assistant |
| Barber | Deanne | barber_d@surreyschools.ca | Teacher |
| Correia | Lisa | correia_l@surreyschools.ca | Department Head |
| Gray | Corinne | gray_corinne@surreyschools.ca | Teacher |
| Marynick | Alyse | marynick_a@surreyschools.ca | Teacher |
| Mazurkewich | Melanie | mazurkewich_m@surreyschools.ca | Teacher |
| Perchaluk | Donna | perchaluk_d@surreyschools.ca | Education Assistant |
| Petrusic | Josie | petrusic_j@surreyschools.ca | Education Assistant |

Quick Links