Tamanawis eases secondary school transition for Grade 7s with basketball tournament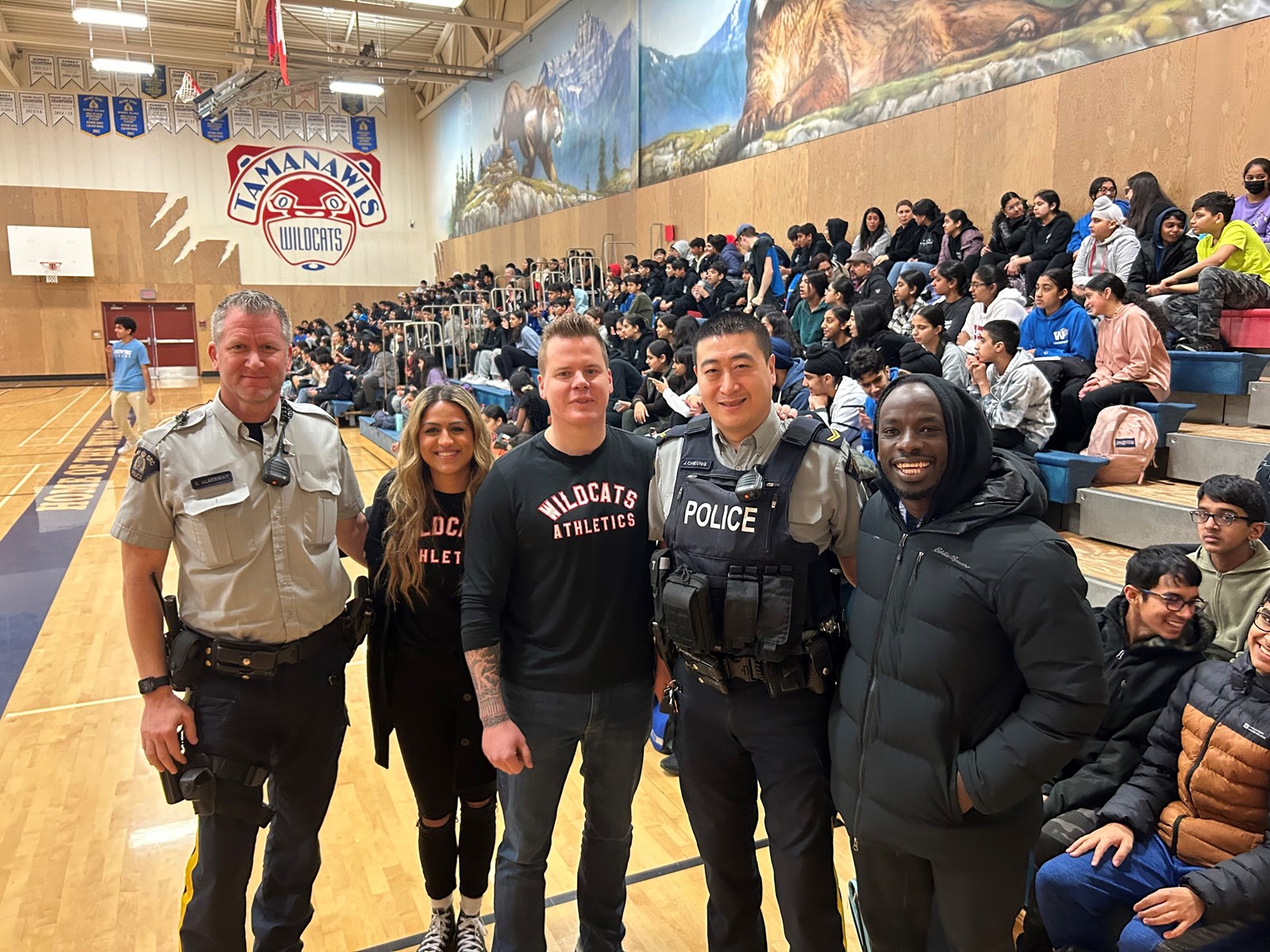 From left to right, Surrey RCMP Const. Blakeway, Safe Schools liaisons Simrit Cheema and Jordan Buna, Cpl. Cheung and SSL Johnny Mubanda. Cheema organized the basketball tournament for Tamanawis Secondary's family of schools, offering local Grade 7 students a first look at the secondary school through a fun competition.
Grade 7 students who are heading to Tamanawis Secondary in September got their first look at the school on Monday through a brand new basketball tournament, designed to help elementary students transition to Grade 8.
More than 215 students from Beaver Creek, Boundary Park, Cougar Creek and J.T. Brown elementary schools attended a friendly tournament for Grade 7 classes, offering a sneak peek of Tamanawis Secondary while helping them adjust to secondary school. Safe school liaison Simrit Cheema organized the event to better connect with their family of schools, saying it was important to create a fun atmosphere for elementary students to associate with Tamanawis.
"Here at Tamanawis, basketball is huge, and we really wanted to make a community event to really get the Grade 7s comfortable with the students and staff," she said. "We want to showcase how welcoming this building is, how friendly our staff are, and to really support and help kids feel safe and happy and excel at this school."
Numerous classes played in both girls' and boys' competitions, with principals, teachers, liaisons and members of community partners, including the Surrey RCMP on hand to familiarize the Grade 7 students with staff prior to the 2023-24 school year.
"It's really nice for the kids to see who they'll be seeing in September, who they can go to for support, anything they need," said Cheema. "We want them to feel comfortable and build that relationship before they transition to Grade 8."
Cheema said many of the Grade 7s have older siblings currently at Tamanawis who came out to watch their brothers and sisters play on their soon-to-be secondary school court. Additionally, a number of Tamanawis students volunteered their time to help run and referee the tournament.
"We have really great students here at Tamanawis and they do really good work, and strive to make other kids feel welcome," she said. "They know what it's like going from elementary school to secondary school and they want to help these kids transition into Grade 8.
"I want to make sure that kids come here knowing we care for our students and the students care for each other."