Science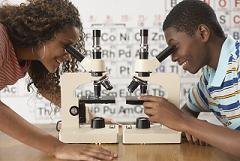 The advancements in science and technology play a significant role in everyday life.
Science curriculum in BC strives to:
help students to understand the relationships between science and technology including social and environmental context;
develop skills required for scientific inquiry, solving problems and communicating ideas to make collaborative informed ideas;
help students gain knowledge in the concepts of science and to apply these to extend their knowledge;
encourage students to develop attitudes to benefit self, society and the environment
Jamie Huisman teaches Science for the daytime classes.
Misha D'Souza teaches Science for the evening classes.
Courses offered include:
Science 10
Earth Science 11
Physics 11
Science for Citizens 11
Anatomy & Physiology 12
Contacts
| Last Name | First Name | Email Address |
| --- | --- | --- |
| D'Souza | Misha | |
| Huisman | Jamie | |