WRAP students beautify Surrey shipping containers with collaborative murals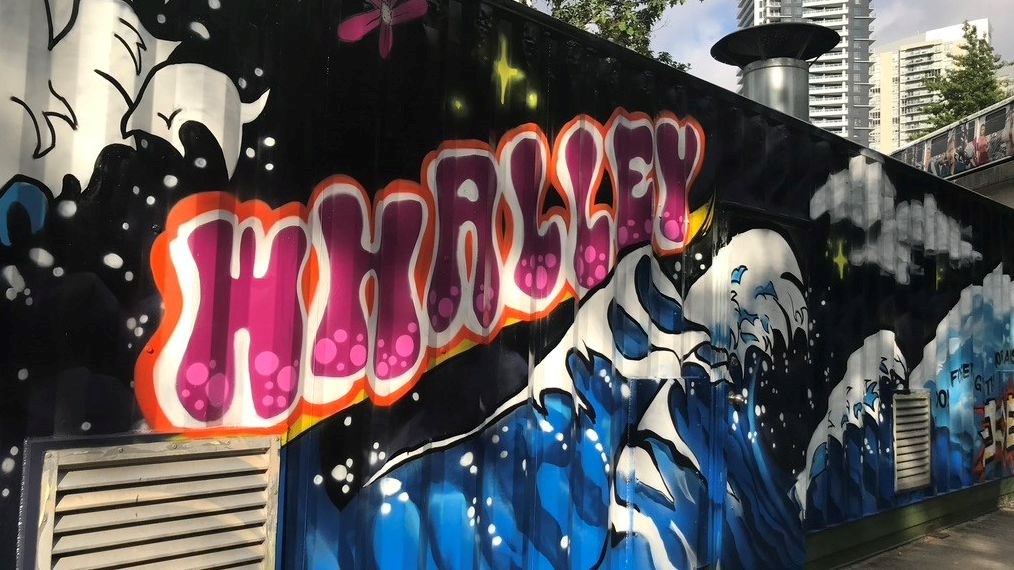 Two shipping containers near the Chuck Bailey Recreation Centre in Surrey received an artistic makeover from students in the district's Wraparound (WRAP) program – the latest in a series of murals painted by students and alumni.
Following the success of the Stolen Sisters, Every Child Matters and Common-Unity murals by WRAP students, the City of Surrey enlisted the help of a dozen WRAP students and staff to paint the containers, which house boiler equipment to heat nearby apartment buildings.
"It's exciting to work on this type of canvas," said Surrey Schools social worker Jon Ross, who worked on the previous murals alongside Earl Marriott Secondary grad and Emily Carr University of Art + Design student Nathan Preshyon. "Nathan was the lead on the project as far as organizing people's thoughts and ideas and making them feel confident to participate, no matter their skill level."
The imagery – which depicts a streetcar overgrown by nature and elements of fire and water – was partially inspired by the equipment, with an emphasis on environmental sustainability in harmony with technology. The use of graffiti was also influenced by Preshyon's roots in street art and the proximity to the Chuck Bailey skatepark.
"Just by the shape of the container, we thought it kind of resembled a train, and Jon made an observation of mushrooms growing through some sheet metal on the back and how that represented nature prospering through a modern environment," said Preshyon. "We thought, 'Why don't we marry those two ideas and see what happens?'"
As with previous murals, Preshyon said the goal was to give students more opportunities to test their creativity, allowing them to design small sections of the mural without feeling the pressure of the entire project.
"We designed it in such a fashion that everybody can have their own little part that they can add," he said. "It's just a start for them to realize they enjoy it, and hopefully that blossoms into more people doing street art and murals and having more creativity in the community."
Ross said one student came near the end of the project and was very open about feeling overwhelmed in such a big space, but loving art.
"The team really helped her find a niche in the back where she drafted up a picture of a waterfall and she overcame a lot of her anxiety and sat down and went at it for three days straight," he said. "It's really cool when there's the opportunity to encourage others."
The next mural will likely start in late spring, and both Ross and Preshyon said they hope more students will join in, noting the murals can be a springboard to something more for students wanting to pursue artwork.
"The two murals I did were front and centre in my portfolio for Emily Carr and it got me in," said Preshyon. "Once you finish this mural, you're part of it, it can go in your portfolio and it got me into a good art school. If it's something that they want to continue with, this is a really good opportunity for them to have."