Truth & Reconciliation Week & Orange Shirt Day (Fall)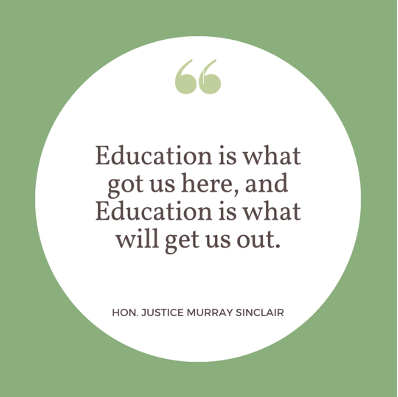 Orange Shirt Day and Truth and Reconciliation Day fall annually on September 30.
Orange Shirt Day began to raise awareness of family, community, and inter-generational impacts of Canada's residential schools. Residential School survivor Phyllis Webstad's orange shirt was taken from her when she was taken to a Residential School. We wear orange shirts on this day to recognize the stripping of self-esteem, culture, and freedom Indigenous children experienced through residential schools. This is a day to remember that Every Child Matters.
Truth and Reconciliation Day began in 2021 and is a day used to honour children who never returned from, children who survived Residential Schools, and their families and communities who continue to suffer from the impact of this cultural genocide. This also serves as a day for non-Indigenous peoples to learn, reflect, and take action.
Former residential school students can call 1-866-925-4419 for emotional crisis referral services and information on other health supports from the Government of Canada.
Indigenous peoples across Canada can also go to The Hope for Wellness Help Line 24 hours a day, 7 days a week for counselling and crisis intervention. Call the toll-free Help Line at 1-855-242-3310.