Our School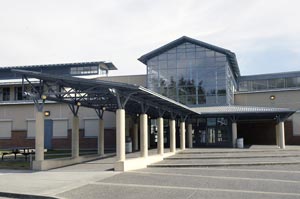 Elgin Park is a secondary school that is part of the Surrey School District. It is nestled in a beautiful community setting in South Surrey. We are a school that is proud to acknowledge that we work, learn, and connect on the traditional, unceded, and ancestral territory of the Katzie, Kwantlen, Semiahmoo, and other Coast Salish Peoples past and present.
Goals:
The purpose of Elgin Park Secondary School is to provide opportunities which will enable learners to develop their individual potential and to acquire the knowledge, skills, and attitudes needed to become self-reliant, responsible, creative and contributing members of our dynamic democratic society.
We believe in a strong partnership between home and school. We want parents involved in their children's education to help us understand the needs and expectations of the community as well as those of their children.
By using the core competencies as our foundation for all student learning, our school goals include:
Continuing to improve student literacy skills. Our learners can think critically, creatively, and reflectively to analyze ideas within, between, and beyond texts.
Learning is not compartmentalized; rather, learning is deeply connected, interwoven, and can be transferred. Our learners can make connections between curricular areas and the real world.
Our learners can use strategies to self regulate and focus on their well being. Developing SEL wellness through a focus on directly teaching strategies to self regulate for all students - Communication, Thinking, Personal/Social.
Building positive school environment and culture that celebrate all learners. Our learners feel a sense of belonging, care, and support in our school. Our learners are diverse and the curriculum supports and allows students to connect to curricular areas.
Accomplishments and Initiatives:
Academics: Elgin is

a school community that celebrates a culture of learning excellence and we offer rigorous academics to engage and challenge all of our learners. We also offer essential electives so that students have access to a variety of learning opportunities.

Indigenous Studies Department: We have recently created a new position known as the Indigenous Studies Department Head. Along with the Department Head, Elgin has an Indigenous Graduation Advocate and an Aboriginal Youth Care Worker to support enhancement programing for Indigenous students. This groups of educators also works with the entire school in furthering the learning about truth and reconciliation. During the 2022/23 school year, Elgin is proud to be offering Indigenous Studies 12 through the English Department. This is the first step in introducing more Indigenous Studies courses in the 2023/24 school year. These courses meet all graduation requirements (for English) and will contribute to an even richer learning experience for our students.
Music: Excellent cross-cultural music tour to Costa Rica; Grade 10's won best junior band at the Lionel Hampton International Jazz Festival; at Musicfest Canada the band was awarded 3 gold medals and 2 silver medals; best junior tombone player at the Surrey Jazz Festival, best senior alto saxophone player at the Surrey Jazz Festival; guitar program continues to grow, attracting new music students each school year; the band performed with distinction at the Surrey Concert Band Revues as well as the Kiwanis Jazz and Concert Band Festival.
Athletics: 2021/22 was a banner year for Elgin! Eleven banners were won throughout the school year in: track and field, volleyball, basketball, hockey, gymnastics, ultimate, soccer, and rugby. We are proud of our athletics program. Check out our Athletics page for up-to-date information: EPS Athletics
Arts: Participated in the "Communities in Bloom" trash can painting project in White Rock and in the Vancouver Art Gallery student symposiums based on the exhibition "Massive Change"; held a Gala Theatre Opening to celebrate the arts at Elgin Park and in our community; participated in the Surrey Secondary Students' Art Show at Surrey Central, an event co-sponsored by the Surrey Arts council; Elgin students' work was displayed at the BCTF Building in Vancouver, Semiahmoo Mall, and at the Earl Marriott Art Show.
Film & TV: Skills Canada Regionals - Gold and silver 2005, Skills Canada Provincial - Gold 2005, Skills Canada National - Silver 2005; Zoom Film Festival - First Place, BC Student Film Festival - First Place.
Cooperative Education: Co-ops for Grade 11 students through the Careers centre. Co-Ops allow for our students to actively work in the community at various locations to gain valuable work experiences.
Clubs: Chess, Drama, Christian, Destination Imagination, Grad Council, Knitting, Mural, Newspaper, Outdoor, Photography, Peer Leadership Counsellors, Running, Science, Solutions Society, Student Council, Weight Room, Writing, Yearbook. There are so many more each year. If students have an idea for a club or committee, they can connect with a staff sponsor.
Proud Club: Elgin has a number of staff that are trained in Safe Harbour training. Our Proud (SOGI) Club is a student led club in our school community and the students and staff in the Proud Club engage and educate through: bulletin boards, weekly announcements, and other school-wide events.
Inclusion: Elgin Park is a school community that celebrates all of our learners. Our staff continue to work on strategies using Universal Design of Instruction (UDI) to ensure that learning is accessible to all students. Students may also find extra supports through various targeted programming such as: LST, LSB, BASES, HOPE, after school tutoring, and counselling.
Social Responsibility and Caring for Community: Elgin Park has a history of caring for the community - both local and global. Our school helped raise over $23,000 to help Tsunami victims in South East Asia over 3 days in January, 2005. The Semiahmoo Rotary Club topped up our donations to $36,000, the amount needed to rebuild a school in a devastated region of Thailand.