Languages
The language program aims to enable students to communicate,read and write in the target language and develop an openness to cultural diversity. Students can take French and Spanish all the way to Grade 10. In Grade 10 students can choose between French 10, Punjabi 10 or Spanish 10. In grade 11 students can choose from French 11, Punjabi 11 and Spanish 11 and then French 12/Punjabi 12 and Spanish 12. Students can check in with course teachers to check pre requisites for senior courses.
LANGUAGE ANTHOLOGY
Click the link below to the Matheson's fabulous Language Anthology. It was created by the recently retired Ms. Maria Davradou and her students.
2020 Davradou Anthology Final PDF c.pdf
BIG IDEAS
| | | | | |
| --- | --- | --- | --- | --- |
| Acquiring a language is a life- long process. | Sharing our feelings, opinions, and beliefs in a new language contributes to our identity | With increased language proficiency, we can discuss and justify opinions with clarity. | Experiencing the creative works of other cultures helps us develop an appreciation of cultures worldwide. | Proficiency in a language allows us to understand global issues and explore opportunities for careers, travel, personal growth, and study abroad |
| | | | | |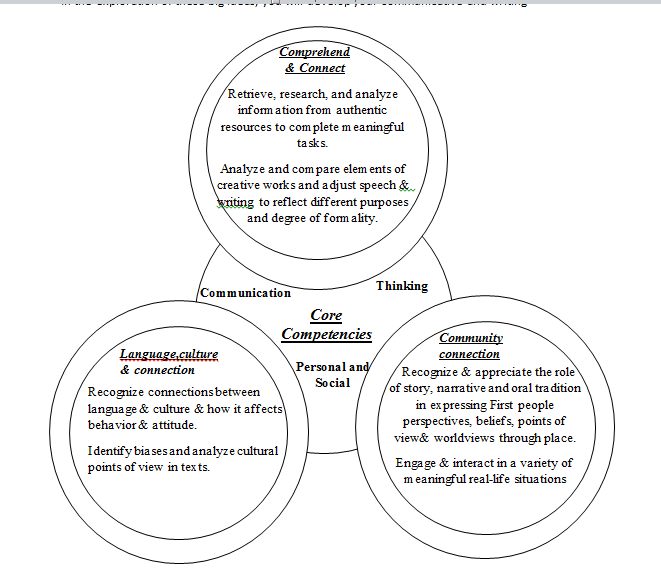 Language is the road map of a culture. It tells you where its people come from and where they are going.❞ ‒Rita Mae Brown
"If you only speak one language,then you only live one life" - Unknown
---

We currently offer the following programs:Core French 8-12Spanish 9/10/11
Punjabi 10/11/12
Workbook/Cashiers Prices
French 8 $5
French 9 $6
French 10 $5
French 11 $6
French 12 $7
Punjabi 11/12 $7
Spanish 9/10 $20
---
Contacts
| Last Name | First Name | Email Address | Job Title | Section |
| --- | --- | --- | --- | --- |
| Bains | Ms. G | bains_gurpreet@surreyschools.ca | Department Head, Punjabi 10,11, 12,LST Science | B220 |
| Mathieson | Ms. D | mathieson_d@surreyschools.ca | French 8-11 | B217 |
| Moreno | Ms. S | moreno_s1@surreyschools.ca | Spanish, CLE | B205 |
| Ohana | Ms. A | ohana_a@surreyschools.ca | French 08 | D151 |
| Olatunbosun | Ms. R | olatunbosun_r@surreyschools.ca | French 8-11 teacher | B218 |
| Singh | Ms. P | singh_parabjot@surreyschools.ca | Punjabi 10/1, ELL | B204 |


Announcements
Dahan Youth Literature. TWO Prize Winners as award comes HOME!
If you were here last year, you will know of the incredible work by Gurpreet Kaur Bains and Sandeep Parhar in building community links between the prestigious Dahan Literature Prize worth $25, 000 (think Punjabi version of Giller Prize) by creating a Youth version of the Prize!!! Well the first winners were announced last week, Mrs. Kaur Bains and Mr. Rex were at the announcement and Matheson captured 2 top Youth Prizes. Karandeep Kular (Grad of 2017) was present to accept her award, and we are waiting with baited breath for the announcement of the second winner at an upcoming gala at UBC! A great example of social justice outreach and the Matheson capacity of leadership with community partners. Further good news an anthology of the works ( translated into english) will be able soon as well!
Matheson Diwali Celebration Oct. 19th
Matheson Punjabi classes will be hosting Diwali Celebration on Oct 19th at lunch time. Lunch will be extended by 10 minutes and free food will be served! Dance Performances and DJ! Bring your dancing shoes and HAPPY DIWALI!
Language Symposium Coming Up October 12
HearStory Language SymposiumOctober 12 10:45-1:40Library RSVP ASAP to Ohana_a@surreyschools.ca.
Schedule:
10:40-11:45 –Indigenous Storytelling
Lunch on student's own.
12:30-1:40-Oral Storytelling Traditions of Punjab
Your class is invited to explore the connection between Language, Oral Traditions, and Empowerment. From Indigenous storytelling to South Asian traditions, the connecting power of language is universal. Presented by Aboriginal Department and Global Diversity SC
Languages PLC Meeting
Languages PLC Meeting happens every third Friday from 8.30-9.15 in Room B220.
Department Meetings
Language Department Meetings are scheduled for last Friday of every month at lunch in room B220.
Languages Anthrology
Ms. Davradou is proud to release the second edition of her anthology that showcases her own love of language and the tremendous dedication and work of the teachers and students within our languages department and beyond.
2017 Languages Anthology Edition 2.pdf
Quick Links
Punjabi 12 Video Life of Pinky Domestic Violence
This Video was showcased at Meri Awaaz/My Voice Domestic Violence Community forum that happened at SFU Surrey Campus.
Language Teacher Wins award
Punjabi Students Shine at SFU
Multicultural Club Helps BC Children's Hospital Foundation
Matheson Bhangra Team Wins First place at BCHS Bhangra Competition 2010
Matheson Photobooth Helps Surrey food Bank
Matheson Diwali with Shaw TV
Pachtava won the best film for Punjabi film festival 2015. directed by Manvir Singh Grewal and produced by Kindu Chahal, Kamaljit singh Bhullar,Bhawan Singh. This was also showcased at Punjabi International Mother language festival 2016 as festival feature presentation.
BC Curriculum Ministry of Education Link
BC Curriculum Languages Template
http://bccie.bc.ca/how-one-secondary-school-in-surrey-is-welcoming-syrian-students/
LA Matheson welcoming Syrian Refugee Students
Dhahan Youth Literature prize Launched
Dhahan Literature youth prize was launched at LAM in March 2017. Punjabi 11-12 students in BC could participate in the prestigious short story writing contest to win cash prizes.
French/SJ teacher Wins Prime Minister's Excellence Award
Annie Ohana is one of six B.C. teachers who received a 2016-2017 Prime Minister's Award for Teaching Excellence. Thirty-six teachers across the country were given certificates of excellence or achievement. Ohana received a certificate of achievement and $1,000, which she is reinvesting in her students. We are proud of her!
Language Teacher wins Academic excellence Award in Surrey
"How much content and competencies we as teachers can teach is not as important, but what's important is how our kids are modelling empathy and compassion in their communities. Academic excellence is achieved when our students are the very best human beings they can be," said Gurpreet Kaur Bains upon receiving the Shakti Award for Academic Achievement.
Shakti Academic Awards 2017
Languages Teacher Mrs. Bains wins Award of Academic Excellence from Shakti Organization of BC.
In celebration of International Women's Day, Shakti Society honoured 16 women for both professional and personal achievements during its 15th annual Shakti Awards. The awards were presented by Shaki Society on Saturday, March 25, at Bollywood Banquet Hall in Surrey, B.C.
Language Teachers Facilitate Heritage Project
Gurpreet Kaur Bains, Languages Department head at L.A. Matheson Secondary, has used the resource in her classes to elevate lessons about Punjabi culture, history and language.
Annie Ohana, head of the Aboriginal Department at L.A. Matheson and social justice curriculum expert, added social justice understandings and connections to the project. Both she and Bains not only helped form a volunteer corps to assist with the Indus project, but serve as student leaders in bringing it to schools.
LAM students win 2 awards at Dhahan Punjabi Literature Awards Ceremoney at Robert H lee Centre UBC.
Karndeep Kaur Kular – Aakhri Saffar (The Last Journey)
School: LA Matheson Secondary, Surrey B.C.
Teacher: Gurpreet Kaur Bains
Sukhraman Kaur Lidder – Afsos (Repentence)
http://www.dhahanprize.com/events/youth
Top short film at Punjabi film Festival 2018
https://www.surreynowleader.com/news/surrey-schools-mustang-justice-program-wins-10000-award/
Matheson wins Mayor's $10,000 civic responsibility award.
https://www.voiceonline.com/l-a-matheson-secondary-schools-mustang-justice-program-bags-surrey-mayors-award/
Matheson wins Mayor's $10,000 civic responsibility award.
https://www.surreyschools.ca/_ci/p/14203
Matheson wins Mayor's $10,000 civic responsibility award.
https://www.surreyschools.ca/_ci/p/14090
Vimy Ridge Commemoration at LA Matheson
https://www.cbc.ca/news/canada/british-columbia/creative-punjabi-writing-contest-for-b-c-youth-launches-in-surrey-1.3999719
LA Matheson collaborates with Dhahan Prize to launch first Dhahan Youth Punjabi literature prize.
Documents
Course Outlines 2017-2018 Course Outlines 2017-2018 Course Outlines 2017-2018
original
Bonjour
SATSRIAKAL
OLA
2017 Languages Anthology Edition 2
2018 Languages Anthology - Edition 3