L.A. Matheson's Camp Next sees big turnout for 2023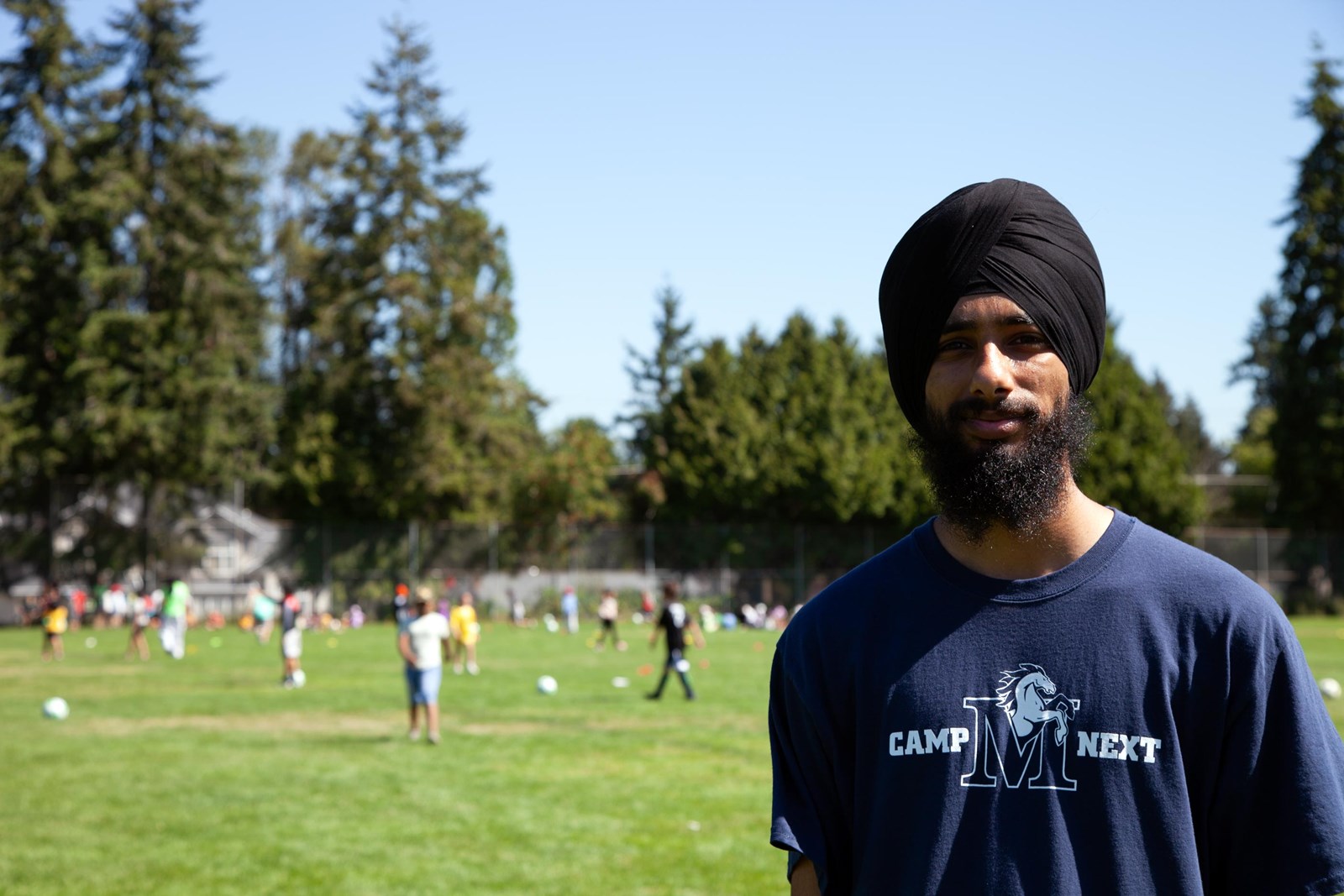 L.A. Matheson grad Govid Deol has returned to his former school to help out with this year's Camp Next.Thing are looking a little busier around L.A. Matheson Secondary this summer as more than 500 elementary and secondary students have come together for two weeks of activities, community building and a 'Mustang Cup' soccer tournament as part of this year's Camp Next.
Founded in 2015 by L.A. Matheson teacher Manny Sahota and hosted in partnership with the district's Safe Schools program, Camp Next was created to keep younger students busy during the summer months while also giving older students a chance to build leadership skills. The program is coordinated with Safe Schools and snacks are provided by the district's Feeding Futures initiative.
"Each year we have students from L.A. Matheson come out and take leadership roles in organizing and running the day's events, helping to mentor the younger elementary students as they go through the games, drills and other activities we have going on," explained Sahota. "We also have alumni that come back to help out after they've graduated, which is always amazing to see."
While the camp portion of the summer program runs for the two latter weeks of July, Sahota noted that the entire program is a month-long experience for the student and alumni leaders.
"So we spend the first two weeks with the leaders going over team building and camp preparations, and then the elementary students arrive for the final two weeks and the leaders get to put their skills to work as they mentor and facilitate the camp activities," he said.
As for the K-7 participants, they hail from six of the surrounding elementary schools within L.A. Matheson's catchment area, giving them a chance to connect with each other prior to being classmates in secondary school. It also gives students a chance to familiarize themselves with their future secondary school, said Sahota.
"It helps to forge friendships and community connections prior to meeting all at once in Grade 8," he said.
According to Sahota, one of the most rewarding aspects of the program is seeing the program's lasting impact on students who took part in it during the first few years.
"About 80 per cent of the leaders this year are former Camp Next students," he explained. "We started the program in 2015 and now we're at the point where we have students who were here playing soccer in year one and now they're mentoring the next generation and passing along that same experience they had."
One of the returning leaders for this year is L.A. Matheson Alumnus Govind Deol, who graduated from the school in 2020.
Having won the prestigious Loran Scholarship Award that year, Deol is preparing to enter his fourth year of science studies at the University of British Columbia Okanagan this fall. While others may be going on vacation or taking it easy, Deol decided to spend his summer vacation giving back to his alma mater.
"I first got involved as a leader in 2018 and have been back every summer since," said Deol. "I saw the alumni before me bringing that sense of community passion and I just want to come back and do the same."
For Deol, he said he feels a personal pride for the school and community that helped him to achieve his goals and wants to do what he can to ensure others have the same encouragement.
"If we start young and give these students that encouragement and those skills, we can build leaders and can give them the skills to navigate the future and explore new pathways," he said.
"This is so much bigger than just getting kids out there and playing soccer, it's about building a stronger community for everyone.
Congratulations to Manny, Govind and all of the team at L.A. Matheson on another successful Camp Next!