Three Queen Elizabeth Secondary students win big in scholarship 'triple crown'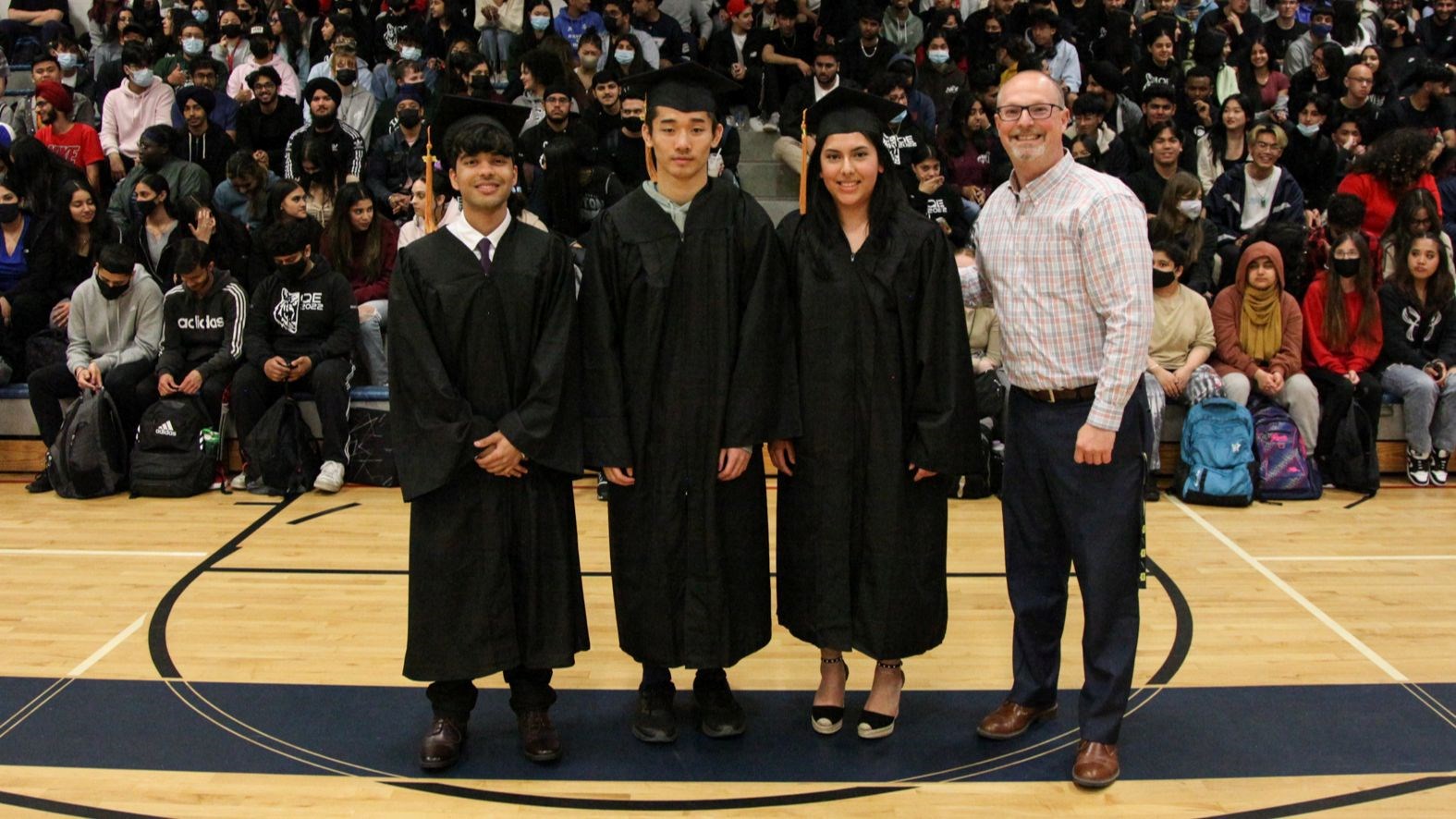 Queen Elizabeth Secondary Grade 12 students Sarthak Tyagi, Tin Dao and Emily Hernandez, pictured with principal Graham Magnusson, are each recipients of scholarships from the Schulich, Loran Scholars and Cmolik foundations, a significant milestone to have three students from one Surrey secondary school receive major scholarships in the same graduating year.
Queen Elizabeth Secondary has won the triple crown of scholarships, as three grads received major scholarships this year, ranging from $40,000 to $100,000.
Grade 12 students Sarthak Tyagi, Emily Hernandez and Tin Dao have been named as scholarship recipients from the Schulich Foundation, Cmolik Foundation and Loran Scholars Foundation, respectively, marking the first time in recent memory that three students from one Surrey secondary school have received the major scholarships in the same graduating year.
Sarthak Tyagi, Schulich recipient
Tyagi has been named one of this year's Schulich Leader's, receiving one of just 100 annual STEM scholarships worth $100,000. He was nominated by his school to be a Schulich Leader after he expressed interest in it last September.
"I heard about Schulich through a friend of mine who won it last year," said Tyagi, noting he was nominated before winter break but took his time to submit his application in January. "I submitted it the day it was due – I'm not even lying, I had 20 or 30 different versions of the same application."
Tyagi evidently impressed the Schulich Foundation with his background in STEM, having designed a smart navigation cane for the blind and visually impaired – a project that he has shared with charities around the world – after witnessing a visually impaired person get hit by a car years ago while living in India.
"It was always stuck in my head that they didn't have anything to protect themselves, and I thought what if there was a mechanism that could detect obstructions from farther away," he said. "Then from Grade 8 to 12, I learned a lot about STEM and coding, and I used that knowledge to create it.
"It has multiple sensors, and as soon as it detects any obstructions, it starts beeping and vibrating to alert the individual – it has a range of about 10 to 12 metres."
At QE, Tyagi is president of the Learn Lab, a mentorship and tutoring program for at-risk youth, and is captain of the school's Royal Robotics team. Outside of the classroom, he volunteers with the Surrey Food Bank and tries to give back to his school and community. For his efforts to help others, he was also named one of this year's winners of the Terry Fox Humanitarian Awards.
"I was an immigrant too and people supported me to learn English, and now I feel like I have the opportunity to give back," he said. "I try to help others the way I was helped before."
Tyagi is going into the computer engineering program at UBC, after which he hopes to start an artificial intelligence company that designs groundbreaking products for people to use.
"I want develop something that revolutionizes the world and helps the community out," he said.
Emily Hernandez, Cmolik recipient
Hernandez is receiving $40,000 from the Cmolik Foundation, in recognition of her exceptional schoolwork, extracurricular involvement and volunteering. Hernandez's application was two years in the making, having first heard about the scholarship in Grade 10 after fellow QE alum Giuseppe Fasciani won the Cmolik scholarship in 2020.
"After talking to Giuseppe, he said you had to volunteer a lot, and volunteering is something I've been doing since I was five years old," said Hernandez, who began volunteering with the Kinsmen Lodge as a child and has worked there as a dietary aid since she was 16.
She also volunteers at Surrey Memorial Hospital as a welcomer and wayfinder, and helped out with COVID-19 vaccination clinics last summer. Additionally, she serves as student council treasurer and an executive member of student council and the grad council, is on the senior ultimate frisbee and senior girls volleyball teams and is a former member of QE's Model UN.
Her academic and extracurricular accomplishments are in addition to overcoming adversity as an immigrant whose family previously faced deportation, financial troubles, and the passing of her dog last year, who was loyal and faithful through her family's hard times. Through all of this, Hernandez worked, at times, six days a week to assist her mother and brother with paying the bills while maintaining top grades in school.
The Cmolik interview process was nerve-racking for Hernandez, noting her own research reading the stories of last year's winners did not prepare her for one last curveball from the foundation.
"They said, 'We'll let you know next week where you stand,' but I'd read that last year's winners got the phone call the day of, so I was thinking 'Why not today? What did I do wrong?'" she recalled. "I went to get my lashes done with my friend, and then I got the phone call mid lash session. You're not supposed to move or open your eyes but I opened my eyes right away to see who was calling my phone.
"On the call, they told me that I won. I was so happy, I was just crying and crying. It was such a good feeling, I was just crying tears of joy."
While originally looking at studying criminology at SFU, Hernandez is now going to pursue a double major in political science and psychology at UBC, with the intent of staying at UBC for law school to become a civil rights attorney.
Tin Dao, Loran recipient
Dao is one of just 35 recipients of this year's Loran Scholarship, a $100,000 four-year undergraduate award for young Canadians based on character, service and promise of leadership.
As an after-school tutor for at-risk youth and wrestling coach, Dao was recognized for his leadership abilities, though he credits a number of his own teachers and mentors for turning his life around.
"I wasn't really the best student in Grade 8 and 9 – I got into some trouble, I shoplifted a bit, I wasn't really heading on the right path," said Dao.
He said he connected with teacher and wrestling coach Simon Kissinger and used wrestling as an outlet instead of going out and causing trouble.
Another coach, Arjun Gill, would pick him up at home each morning and bring me to the rec centre to work out four days a week.
"He gave up that time for me and I just think about all the other people who reached out and helped me get on the right path."
This school year, QE guidance counsellor Jeremy Lendvoy recommended Dao apply for the Loran scholarship. While applicants are selected based on their own individual achievements, Dao said his success has been a team effort, giving credit to his mentors.
"I can't stress enough that I did not do any of this alone," he said. "I'm happy with the direction I've been heading but it's definitely not something I've done by myself.
Dao is pursuing a degree in commerce from McMaster University in Hamilton, Ont., with the goal of attending law school. He is also one of the newest recruits to the McMaster Marauders wrestling team.
Congratulations Emily, Sarthak, Tin and Queen Elizabeth Secondary on your scholarship wins!