Territorial acknowledgment plaques being installed at every school in the Surrey School District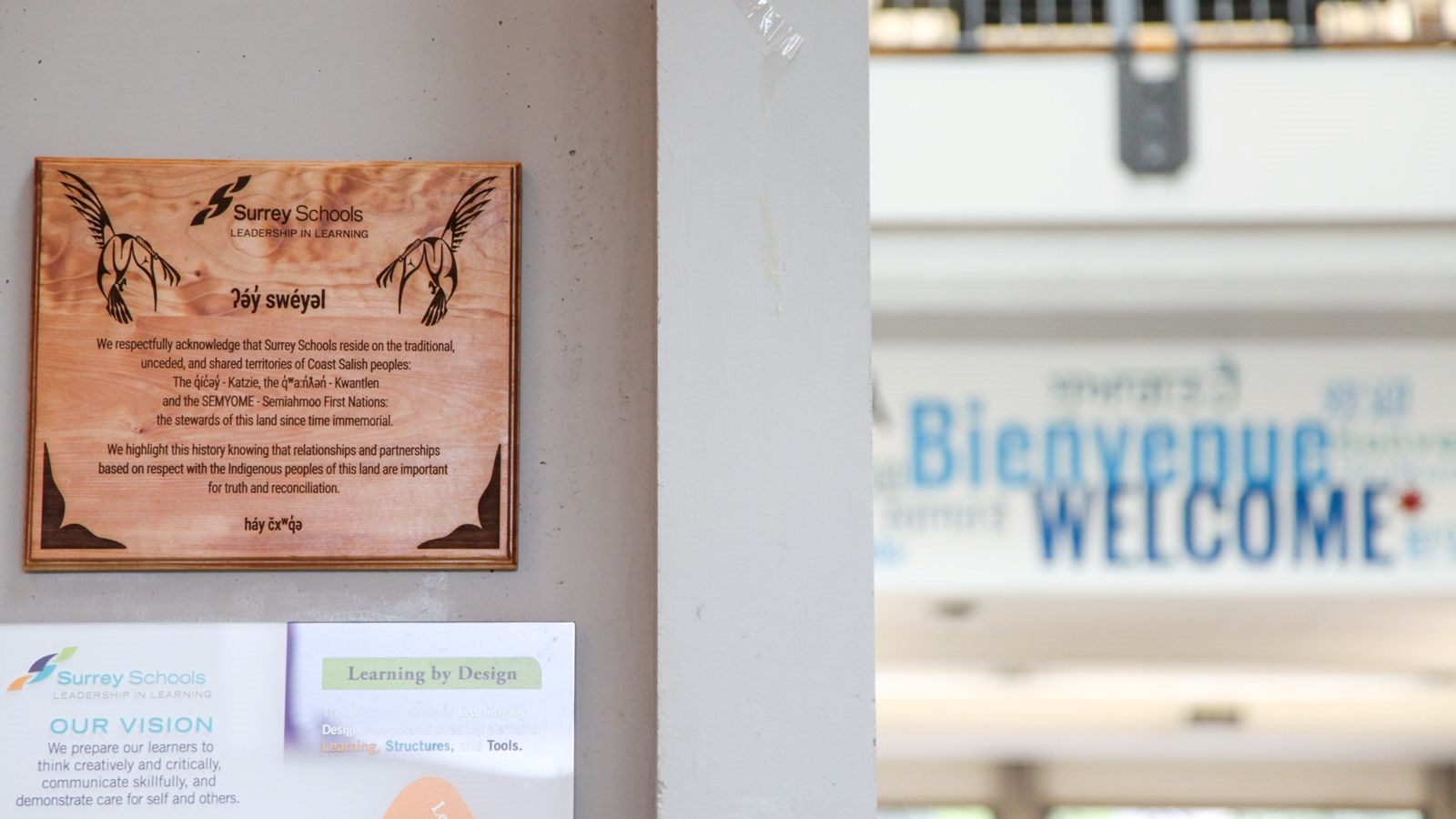 All sites, including elementary schools, secondary schools and learning centres in the district will soon have territorial acknowledgment plaques at each of their entrances, recognizing the Indigenous land on which our students and staff work, learn and play.
In an ongoing effort to support reconciliation, the Surrey Board of Education commissioned 130 plaques to be installed at district sites, acknowledging the territories of the Katzie, Kwantlen and Semiahmoo First Nations.
"We respectfully acknowledge that Surrey Schools reside on the traditional, unceded and shared territories of Coast Salish peoples," read the plaques. "We highlight this history knowing that relationships and partnerships based on respect with the Indigenous peoples of this land is important for truth and reconciliation."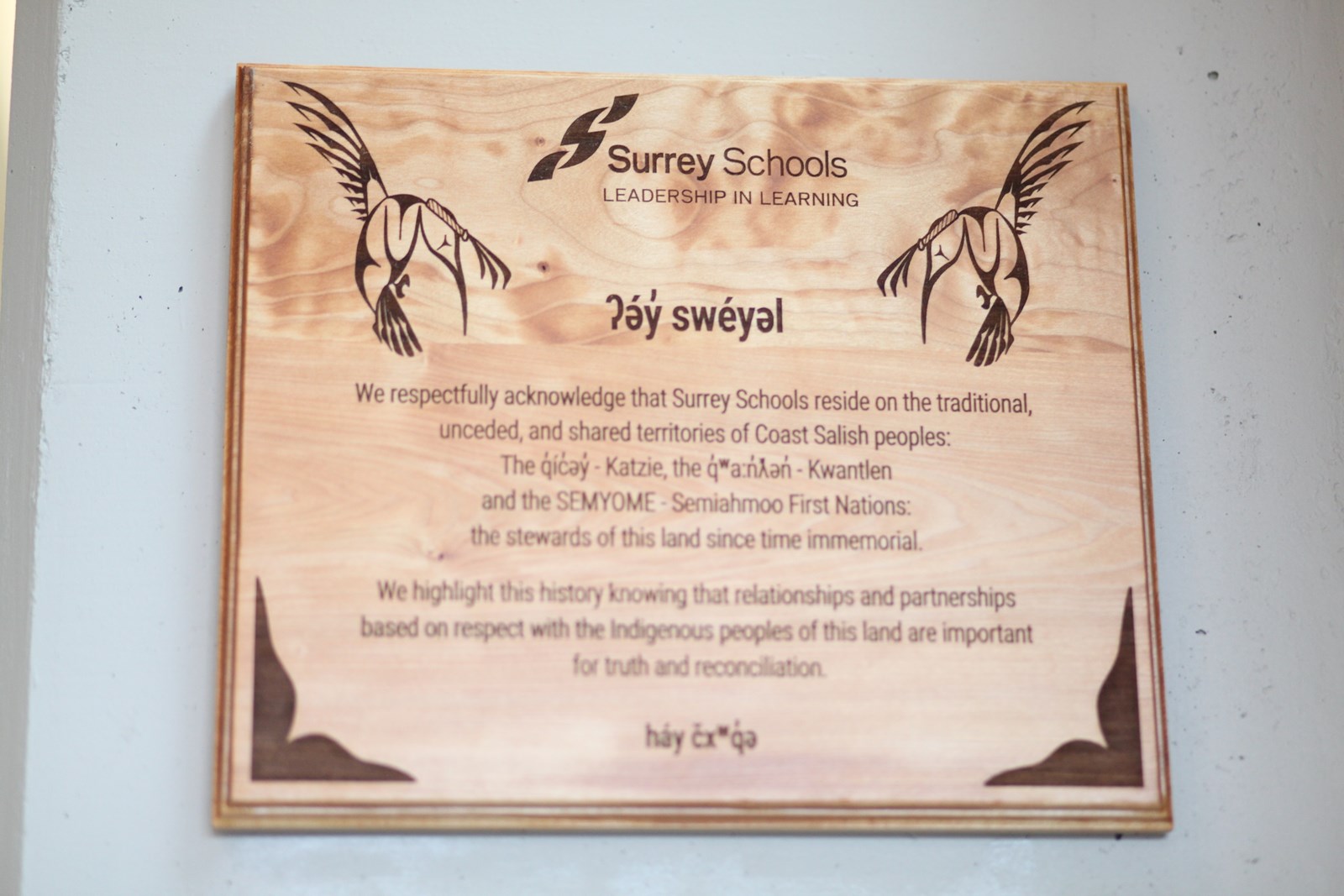 Lyn Daniels, director of instruction with Aboriginal Learning, said the acknowledgments make Indigenous students and families, even those who aren't members of Coast Salish First Nations, feel welcome at our schools.
"When you walk into a public school, you can always count on seeing a Canadian flag and the flag of the province and a photo of the Queen," she said. "We wanted to have something that acknowledges Indigenous presence in Canada and North America. Hopefully that is something everyone will come to recognize."
The plaques were designed by Katzie artist Rain Pierre, whose artwork is also featured at École Salish Secondary, Bear Creek Elementary and K.B. Woodward Elementary. He, along with production manager Kiefer Strautman and graphic designer Dusty Yurkin, worked tirelessly to produce the plaques, as well as four additional plaques marking the official openings of Grandview Heights Secondary, Douglas Elementary, Edgewood Elementary and Maddaugh Elementary.
The maple plaques feature imagery of two hummingbirds wearing cedar headbands, reflecting Indigenous culture and the survival of attempted genocide for First Nations Peoples. Pierre said the hummingbird bears personal significance to him as his spirit animal, but also for its unique ability to fly in reverse, which he said represents the uniqueness of Surrey Schools.
"It's something that's very special in my life. I actually say that I walk with four hummingbirds: two for being two-spirited and then two for my grandmas," he said. "I did two of them [on the plaques] to represent the past and the future because we need to acknowledge both of those in order to reach true reconciliation all together.
"I say it's unique because it represents what the school district is going through, acknowledging our people and what happened and reflecting that it's a unique district."
As a graduate of Fraser Heights Secondary and as an Indigenous artist, Pierre said he's proud to see his artwork at local schools, and he's glad more students will have the opportunity to see it.
"Surrey has a big place in my heart because it's home for me," he said. "And I feel like this is a huge step in reconciliation. Every time I get a chance to work with students or inspire them with my artwork, it just means a lot, doing reconciliation in my own way."