Truth & Reconciliation Week events in Surrey and White Rock
This Saturday marks the third annual National Day for Truth & Reconciliation, and leading up to the day, numerous events are being held this week in Surrey and the Lower Mainland, as well as online, to acknowledge our country's history with First Nations and residential schools.
"It's really important for all Canadians to know about the history of Indigenous people on this land," said Lyn Daniels, director of instruction with the district's Aboriginal Learning department. "If we have greater understanding, we can have greater reconciliation.
This week, the National Centre for Truth & Reconciliation is putting on a free online speaking series for Truth & Reconciliation Week every day from 10:30 to 11:20 a.m. PDT. Topics include the history of residential schools, unconscious bias and debunking stereotypes, intergenerational impacts and ongoing systemic discrimination, Indigenous Peoples' rights and taking action toward reconciliation. To register, click here.
Locally, on Friday, Sept. 29, Skookum Surrey is hosting an afternoon of drumming, sharing, tea and bannock at Holland Park (13428 Old Yale Rd.) from 3 to 5 p.m.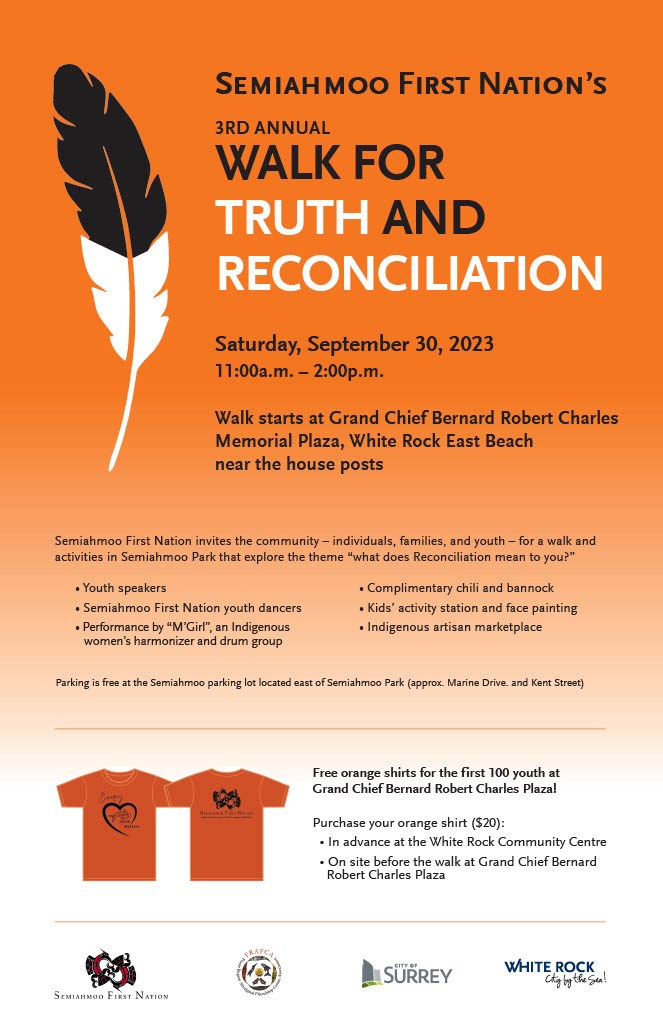 On Sept. 30, the Semiahmoo First Nation (SFN) invites the public on its third annual Walk for Truth and Reconciliation from 11 a.m. to 2 p.m. The walk begins at Grand Chief Bernard Robert Charles Memorial Plaza on White Rock's East Beach near the house posts and ends at Semiahmoo Park, with programming and activities into the afternoon.
The event includes youth speakers, SFN youth dancers, a performance by Indigenous women's harmonizer and drum group M'Girl, a kids activity station and face painting, an Indigenous artisan marketplace, and complimentary chili and bannock. Free parking will be available at Semiahmoo Park in the SFN lot at East Beach, below Washington Avenue Grill.
The first 100 youth at the plaza will receive a free orange shirt. Orange shirts will also be available for $20 on site before the walk, and in advance at the White Rock Community Centre.
On Sept. 30, from 10 a.m. to 3 p.m., join Surrey Local Immigration Partnership at DIVERSEcity Community Campus (13455 76th Ave.) for Truth, a session from the Surrey First Peoples' Guide for Newcomers. Click here to register for free.
North of the Fraser River, on Sept. 30, from 10 a.m. to 2:30 p.m., the Katzie First Nation will be hosting the collaborative community event, The Healing Journey Continues through Truth and Reconciliation, at Memorial Peace Park (11930 224 St., Maple Ridge). The day will include Indigenous dancing, drum circles, a community art project, art and food vendors, orange shirt painting and a series of speakers from the Katzie, Kwantlen and Semiahmoo First Nations.
On Oct. 5, from 6 to 8 p.m., the Museum of Surrey (17710 56A Ave.) is hosting Stories from the Land, an opportunity to hear Indigenous stories from south of the Fraser River, as told by Dennis Leon, Tsatsomtun, of the Kwantlen First Nation. The evening includes a delicious community dinner of bannock and chili prepared by Pipɑ:m̓ Catering.
Attendees will also have the opportunity to support the Surrey Indigenous Youth Advisory Committee of the Fraser Region Aboriginal Friendship Centre Association (FRAFCA) as they fundraise for their Christmas hampers campaign, and browse a selection of books and resources from Surrey Libraries.