Queen Elizabeth Secondary teachers to appear on Family Feud for Teachers' Week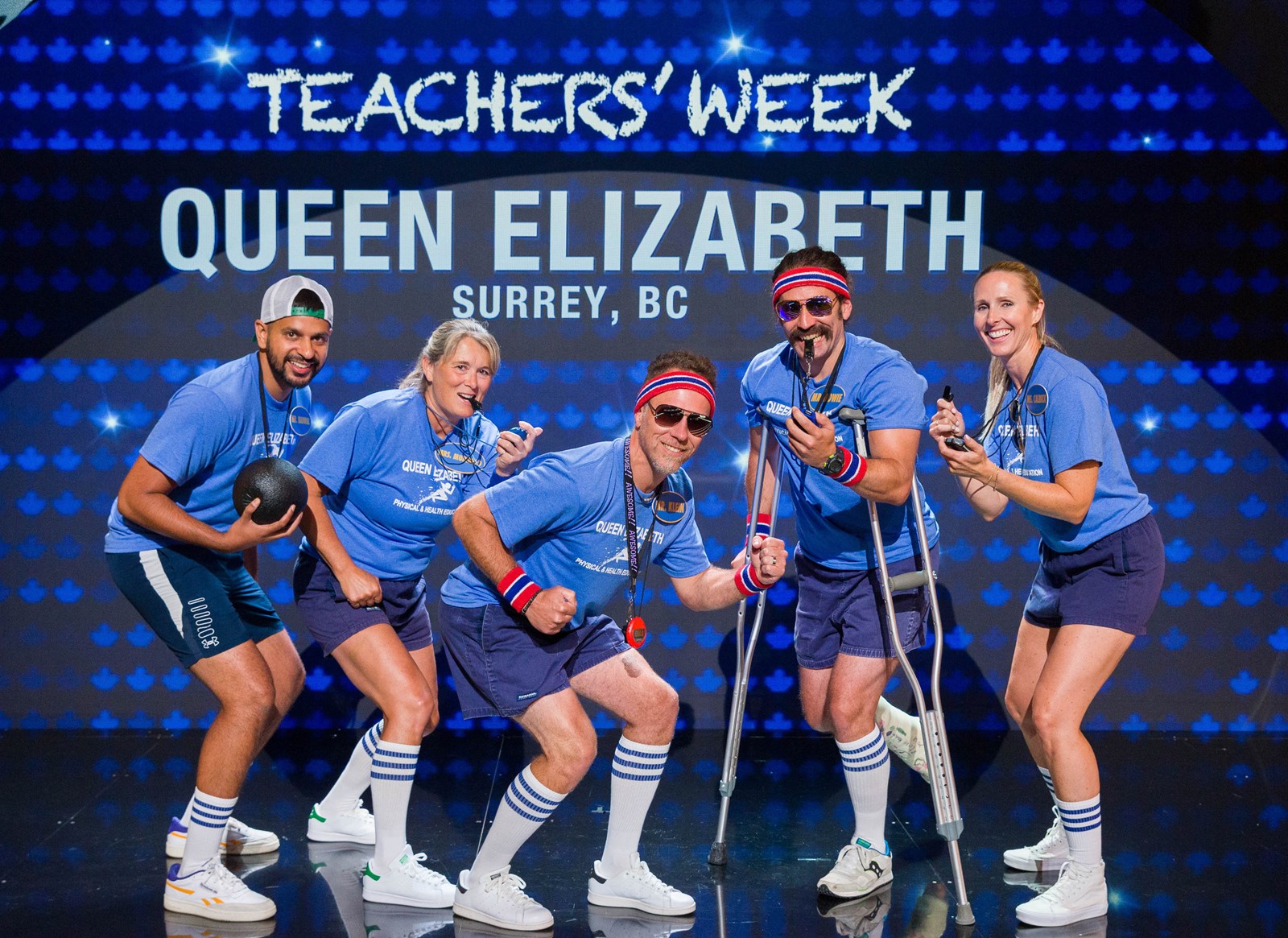 The Queen Elizabeth Secondary Family Feud team from left to right: Mr. Badwal, Mrs. Muirhead, Mr. Klein, Mr. Bowie & Ms. Calbick.A team of instructors from Queen Elizabeth Secondary will make its television debut on Monday (Sept. 18) when the fifth season of CBC's Family Feud kicks off with its first-ever Teachers' Week.
Bucking the traditional format of pitting families against one other to answer survey questions for cash and prizes, the first week of the new season instead features teacher teams from across the country facing off to win $10,000 in school supplies and equipment.
The Queen Elizabeth Secondary team competes in the premiere episode.
"It was a really great experience," said Tavis Bowie, one of the five QE instructors who took part. "All of us are from the physical education department and so we were excited to represent our school on national television."
Filming took place in August during summer break and while it's one thing watching a game show on TV, Bowie said being on the other side was a unique learning experience – and it was a surprise to see how quick the turnaround was.
"We were the first group up, so we had some practice rounds before they brought the live audience in. After that, we filmed our session and were done and on our way home."
Bowie said there was a mixture of nerves and excitement as the team focused on performing well, while also being aware they were being watched by a large audience.
"As a teacher, you're used to speaking in front of groups of students," he said. "But with the studio audience there, the bright lights and cameras rolling, we felt a lot like the kid being asked a question in class who has had no time to process it."
And while he can't talk about the outcome of the episode, Bowie said the experience was one he'll never forget.
"We were so excited to just represent the school and come together as a team," he said. "It's not about us, it's about the school and everyone here is excited to see the school represented on national television in such a lighthearted and fun way."
To watch the Queen Elizabeth Secondary team on Family Feud, tune in to CBC this Monday, Sept. 18 at 7:30 p.m.
*UPDATE* The Queen Elizabeth team won their episode, which can be viewed online here.