Welcome Centre hosting six Newcomer Networking Nights for students and families new to the district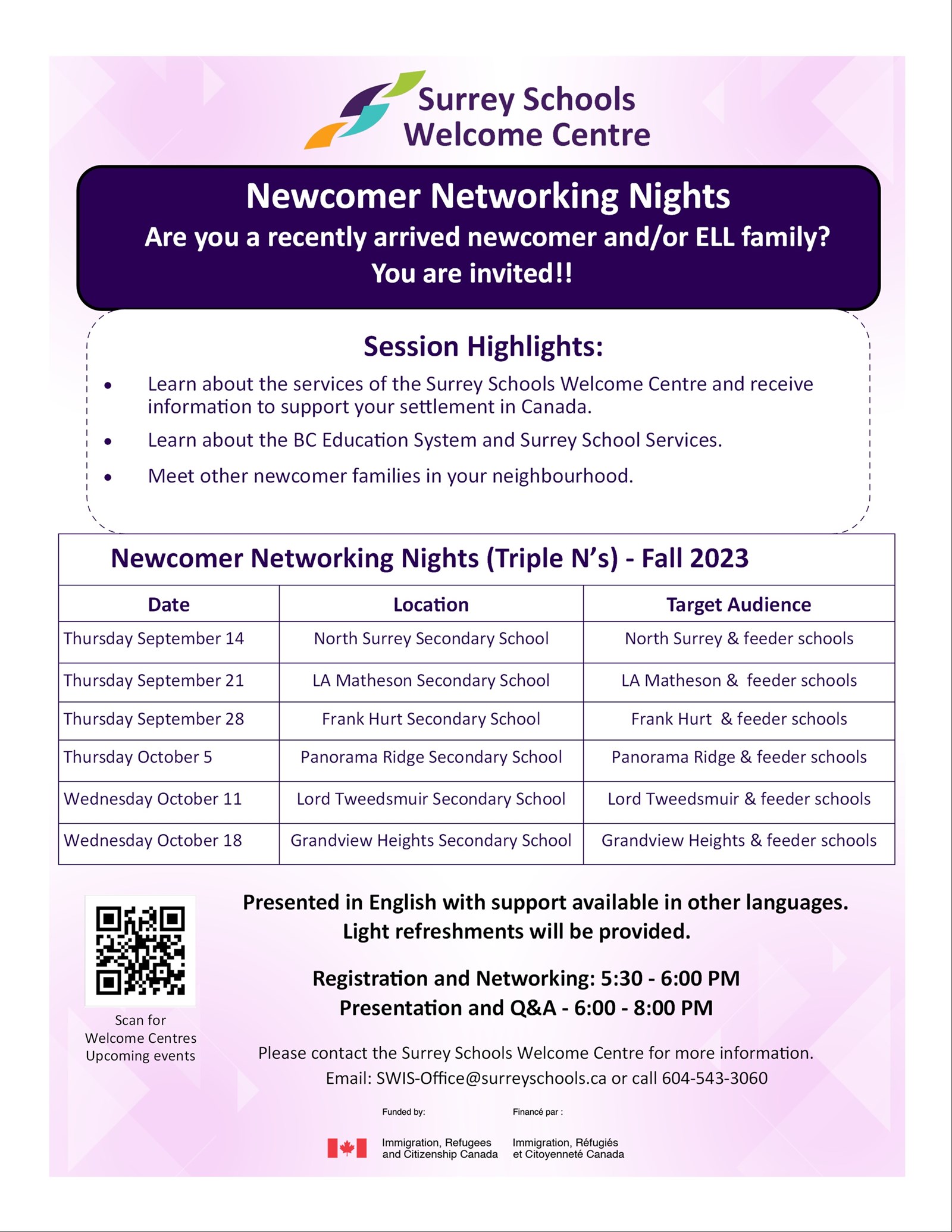 For the second year, the Surrey Schools Welcome Centre is hosting Newcomer Networking Nights, designed to help immigrants and new families adjust to and navigate school life in Surrey and White Rock.
"It's an opportunity for us to welcome all the families that are new to the district, new to Canada, new to Surrey, and are just starting off their educational journey," said Welcome Centre manager Parampal Sharma. "We know that the B.C. education system is quite different from other parts of the world, so we want to provide an opportunity for them to learn about our schools and how they operate."
"The premise behind this is to involve, engage and empower newcomers," added Raj Puri, district principal of settlement services with the Welcome Centre. "By running these nights, we're building the capacity within the newcomer community to engage with life in school."
The sessions provide a supportive and engaging environment for families to learn about the district, including available services and staff assistance, school routines and norms, and support offerings from the Welcome Centre. Last year's events had more than 1,000 participants and provided parents and students the opportunity to network with other parents and people in their communities.
"One of the key things we talk about is the roles of parents and how important it is for us to involve them in their child's education," said Sharma. "We know that supporting strong and healthy growth is really a collaborative effort and we want parents to feel that they have the information, resources and knowledge they need to make informed decisions related to their child's education and development."
The nights also feature a Q&A session so parents can get more specific information.
The Newcomer Networking Nights are being offered in different neighbourhoods on six evenings as follows:
Thursday, Sept. 14 – North Surrey Secondary
Thursday, Sept. 21 – L.A. Matheson Secondary
Thursday, Sept. 28 – Frank Hurt Secondary
Thursday, Oct. 5 – Panorama Ridge Secondary
Wednesday, Oct. 11 – Lord Tweedsmuir Secondary
Wednesday, Oct. 18 – Grandview Heights Secondary
Participants may attend any session as the information presented is the same at each night.
Registration and networking is from 5:30 to 6 p.m., with the presentation and Q&A from 6 to 8 p.m.
For more information, contact the Welcome Centre at SWIS-Office@surreyschools.ca or call 604-543-3060