B.C. government funds child care spaces at nine Surrey schools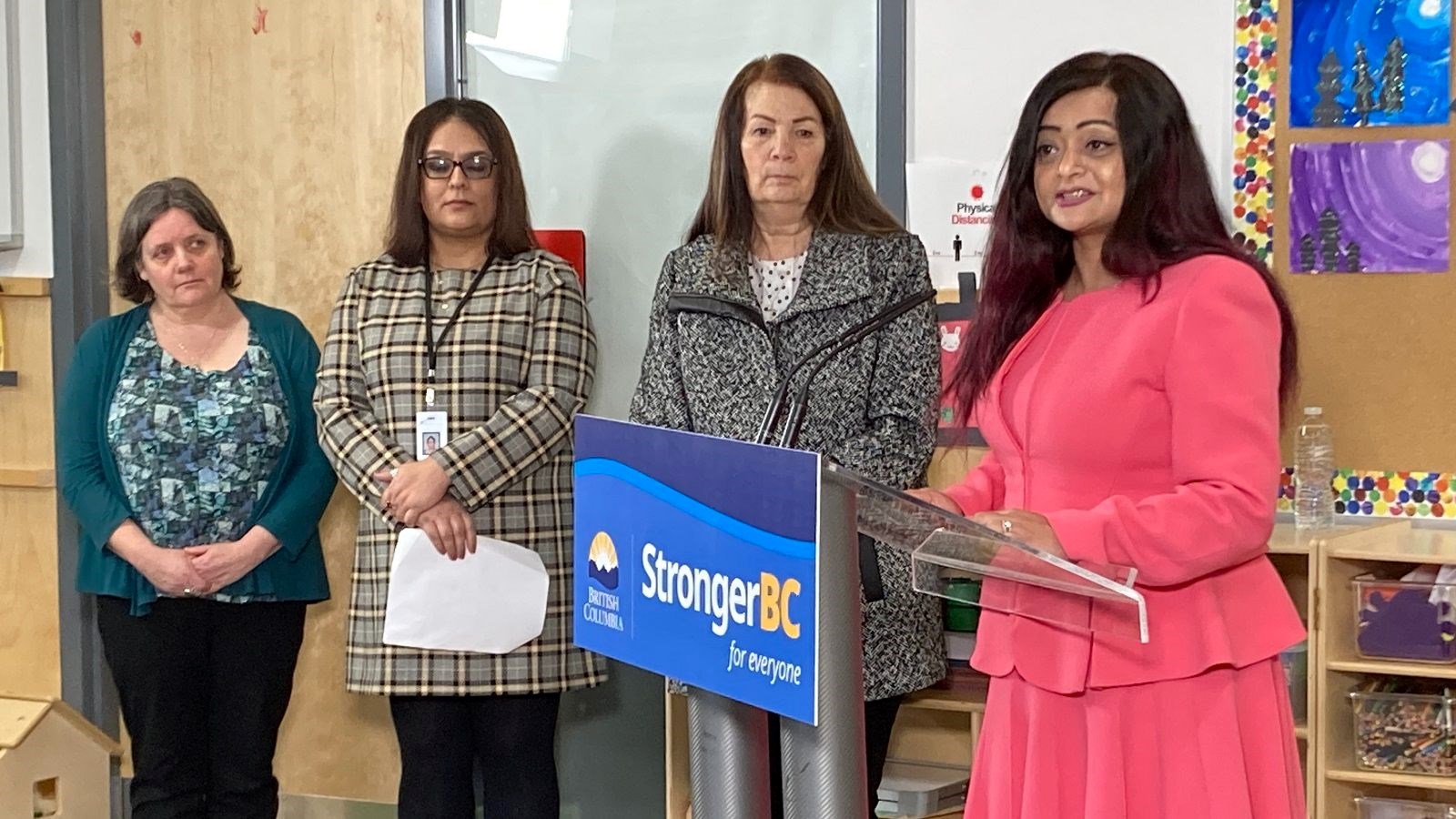 Supneet Kaur Chawla (right) is just one of the parents who is seeing the benefit of new child care spaces funded by the B.C. government at nine elementary schools in Surrey.
The province has committed funding for more than 290 new child care spaces for school-aged children at nine Surrey elementary schools, thanks to approximately $186,000 from ChildCareBC's New Spaces Fund.
Announced Tuesday (Jan. 24) at an event at Panorama Park Elementary, the nine schools include Cindrich, Coyote Creek, Frost Road, Holly, M.B. Sanford, Panorama Park, Sullivan, Surrey Centre and W.F. Davidson elementary schools. The before-and-after-school child care programs will be offered to students at these schools and nearby schools depending on the registration interest.
"As a trustee, I have heard from countless families about the importance of affordable and accessible child care," said Laurie Larsen, Chair of the Surrey Board of Education. "The value of this service is incredible – it helps drive economic growth, increases parents' participation in the workforce, and offers our students a safe and enriching environment to continue learning and playing outside of school hours."
Supneet Kaur Chawla, a parent in the district, said her child participates in one of the new before-and-after-school care programs that received this funding, and the support has been extremely helpful for her family.
"As a working parent, having access to before-and-after-school care at my child's school is invaluable," said Chawla. "It's convenient, saves us time, and my child has that continuity that is so critical. They have a great time in the program and are in an environment that they trust and feel safe in."
All nine of the projects funded through this grant will be operated by the YMCA, providing critical services in line with their child care programming.
"Through our continued partnership with the Province of BC and the Surrey School District, the YMCA and our team of professional educators are excited to bring a new child care centre to Surrey, and provide even more children with healthy, happy experiences," said Cathy Poole, Vice President of Children and Youth Services with YMCA BC, adding the province's commitment to child care has enabled the YMCA to grow its services to families.
Parents and guardians interested in registering their child for one of these new child care spaces can add themselves to the YMCA BC Child Care Registry and Waitlist.
For more information on ChildCareBC, visit www.gov.bc.ca/childcare or read the ChildCareBC New Spaces Funding school-age-care guidelines.