Emergency Medical Responder Program prepares teens and adults as paramedics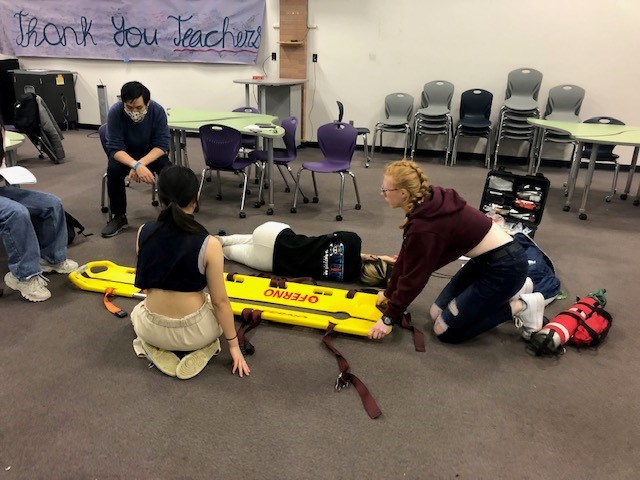 Registration is open for the next semester of the Emergency Medical Responder 12 A&B course at Queen Elizabeth Continuing Education.
A new program at Queen Elizabeth Continuing Education (QECE) is giving secondary and adult students an opportunity to pursue careers as paramedics and emergency responders.
In partnership with the Justice Institute of B.C. (JIBC), the Emergency Medical Responder 12 A&B course provides students with the knowledge and skills to conduct emergency response as ambulance paramedics, firefighters, law enforcement, ski patrol and rescue, and remote industrial workers. Launched last fall, the course offering was more than three years in the making, sparked by a conversation between the JIBC and the Surrey School District's Career Education department.
"They thought, 'Where would be the natural landing place?' and it was determined to fit with adult education," said Derek Strauss, principal of Queen Elizabeth Continuing Education (QECE). "But before any real conversation could start, the pandemic hit and it sidelined the event for two years.
"We worked closely with the Justice Institute. They were very helpful in that they offered us the equipment at no charge for a period of time to get going. Then I added the course and worked through our site-based counsellors in the district to advertise this program."
Strauss enlisted teacher Angie Baumgartner to lead the course, noting she has a strong background in first aid in the local swimming community. It didn't take long for interest in the program to spike and all 16 spots in last spring's session were filled, roughly evenly split between Grade 11 and 12 students and adult students looking to work in law enforcement or emergency medical support.
The eight-credit course totals 105 hours in one semester, with students attending twice a week on Tuesday and Thursday nights. The course is free through QECE, aside from the cost of textbooks.
"We've been hearing all year that there's a shortage of emergency responders," he said. "If you take this course and you're successful, you could be hired on by an ambulance service with the added benefit that they will pay for the second level of training."
While the fall semester is full, Strauss said students interested in the spring session can register in November. He said the response from students who have already taken the course has been very impressive.
"There's great energy, great involvement, tons of collaboration – I get students stopping me in the hall saying how much they enjoy the course," he said. "I'm hoping new students acquire a much deeper understanding of both physical and mental health, and a confidence in being able to serve when there's an injury.
"For those who are keen on moving into the industry, whether it's ambulance services or into the medical profession, this course could be their springboard."
The program runs Feb. 9 to June 22, with registration opening Nov. 28. For more information, visit Queen Elizabeth Continuing Education.