Discovery Education

Suitable for: Grades K to 12
Access: Log in using the generic digital resources username and password. If you don't know the generic login, ask your school's Teacher Librarian.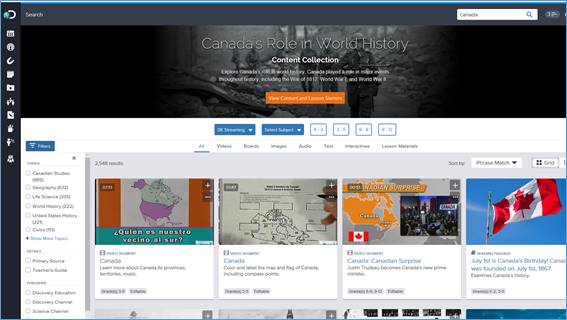 Vendor Description:
A digital curriculum and online teaching resource that provides access to a rich collection of over 120,000 learning assets – all designed for easy integration into a curriculum and correlated to provincial outcomes.
Select just the right subject matter to satisfy local requirements with video content that is correlated with provincial outcomes
Quickly identify relevant content for lessons utilizing enhanced search tools, such as Curriculum Standards Search, Thematic Focus pages or the Monthly Calendar
Address multiple learning styles with content that can be delivered in a variety of formats (print, auditory, visual support and interactive experiences)
Customize and personalize lessons to different subjects, grades, and learning styles
Create and innovate with Assignment Builder, Quiz Center, Writing Prompt Generator, and other resources
Demonstrate real world science with STEM Connect, a captivating resource connecting students to STEM curriculum and career development
Featuring a Canadian Calendar, Canada Theme Pages, and Canadian Provincial Atlas and content from Discovery's Canadian talent: Dave Salmoni, Into the Lion's Den, Les Stroud, Beyond Survival, and Dan Riskin, Curiosity
Click Here to access Discovery Education Canada.