test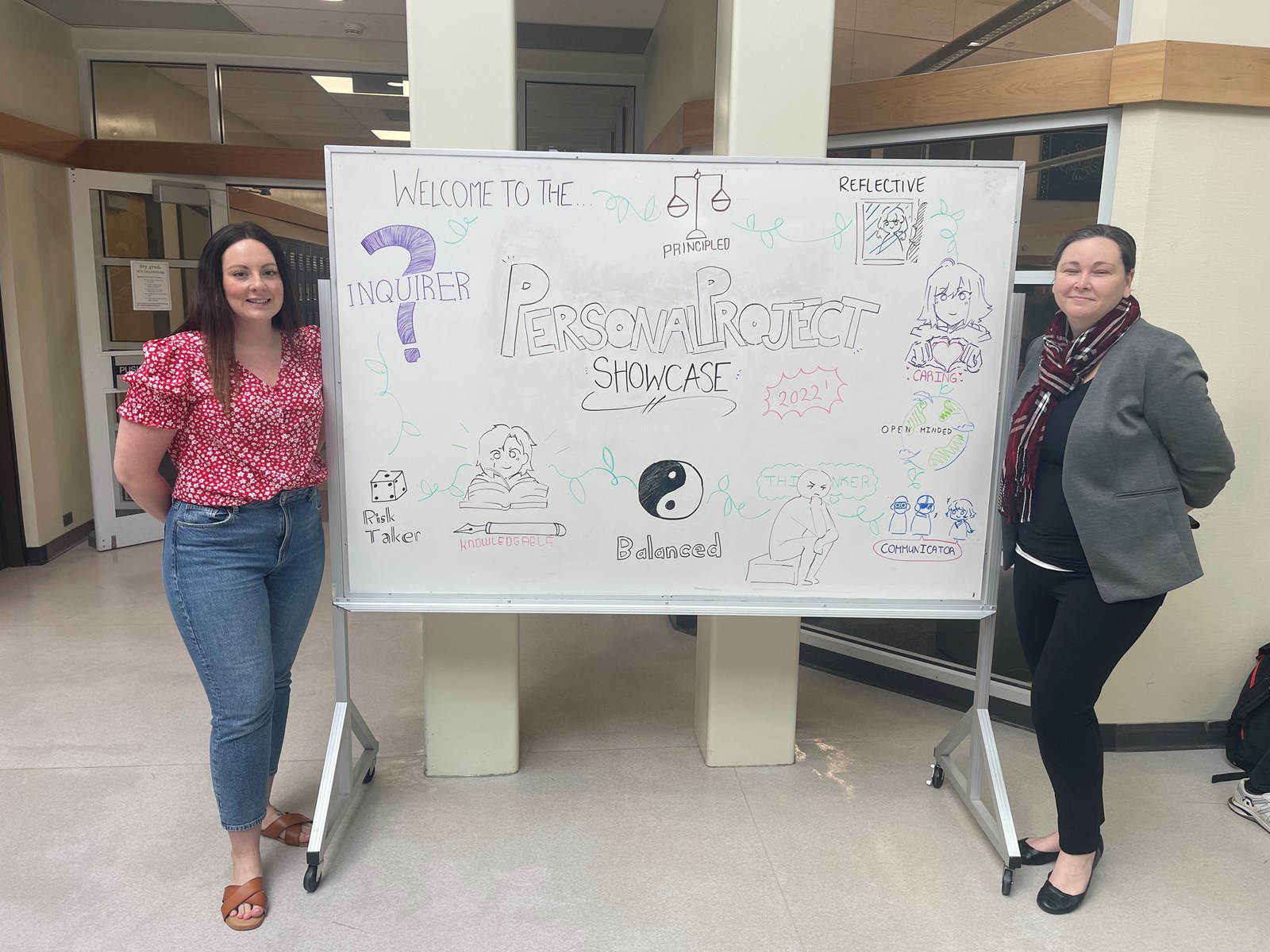 Johnston Heights IB Program Facilitators Emily Hayler and Jennifer MacDonald
Things are finally returning to normal for students of Surrey Schools' only International Baccalaureate Middle Years Program.
Two years after the start of the pandemic, students who are part of Johnston Heights Secondary's International Baccalaureate (IB) Middle Years Program (MYP) are once again able to showcase their learning in the MYP Exhibition 2022.
The MYP exhibition has traditionally been an opportunity for Grade 8-10 students to highlight the completion of their IB MYP journey, focusing on a specific topic and breaking down their learning experience in ways that aren't necessarily explored in detail within the standard curriculum.
According to Jennifer MacDonald, IB MYP Coordinator for Johnston Heights, the return of the exhibition now that pandemic restrictions have lifted means the return of one of the program's greatest learning opportunities.
"The value of the project lies not only in the satisfaction of deeply exploring a passion, but also in sharing that interest with the wider school community and bringing an interest to life through the product," explained MacDonald. "This project allows students to be creative and imaginative while also challenging them to develop their skills in research, design, time-management, and communication. In short, they question, investigate, design, create, demonstrate and reflect."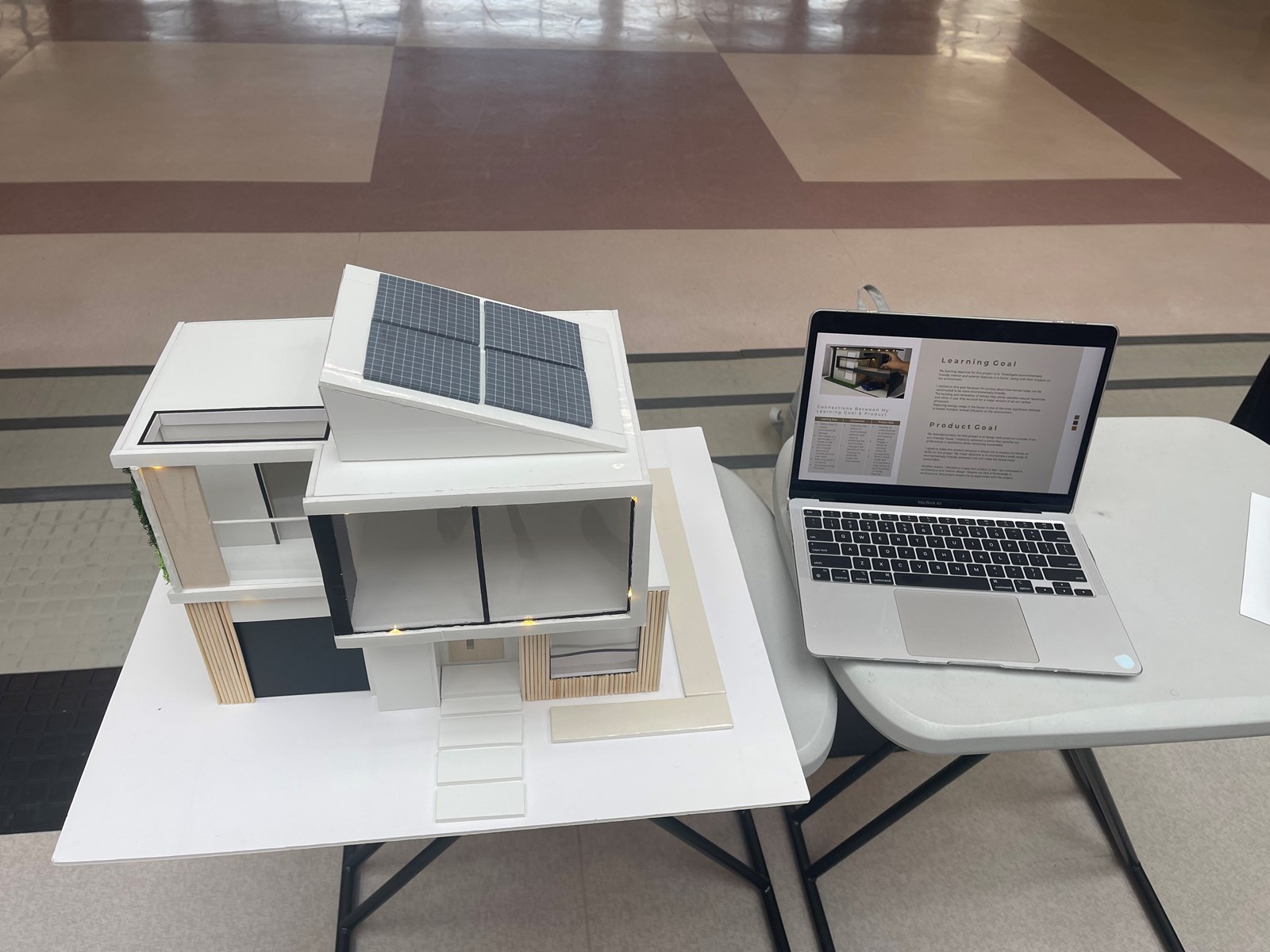 A Johnston Heights IB MYP Student's 2022 showcase project: Exploring how homes can be built to be more environmentally friendly.
The exhibits also help dispel the misconception that the IB program is a specialty academic program. MacDonald emphasizes it is for all students, regardless of academic standing, with teens learning life skills with real-world connections.
"MYP has a place for everybody, with the personal project it's a place where kids get to explore things that are not traditionally done in a classroom," she said.
Examples of past projects and exhibits include two students who researched barbering and the business side of it, who went on to open their own shop a few years later. Another student explored the sustainability of the fashion industry and learned how to create clothing from recycled materials.
"Many students connect this project to their long-term academic and career interests," explained MacDonald, adding that others have used to study culture and important social topics.
"Last semester, a student presented on his personal fitness journey, highlighting his vulnerabilities, his goal to avoid 'toxic gym culture' and his improved fitness level's overall positive impact on his mental and physical health."
Surrey Schools' IB program is offered at two schools, with the Middle Years Program (Grades 8-10) at Johnston Heights Secondary, and the Senior IB Program (Grades 11-12) at Johnston Heights and Semiahmoo Secondary. While the Middle Years Program is available for students attending Johnston Heights only, the senior program is available to students across the district. For schools to become IB-certified they must go through a rigorous authorization process, and have lesson plans reviewed and authorized by IB officials every five years. There is no cost for students to attend the Middle Years Program.
Anyone interested in learning more about the Johnston Heights IB Middle Years Program can contact Jennifer MacDonald at 604-581-5500, Ext: 2406 or macdonald_j1@surreyschools.ca.
Those interested in the senior IB program (Grades 11-12) can contact coordinator Emily Hayler at 604-580-7766 or hayler_e@surreyschools.ca.
For the Johnston Heights IB Program web page, please click here.